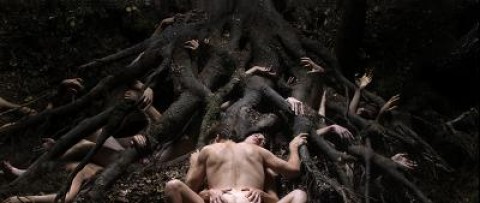 Danish director Lars Von Trier has returned to Cannes and caused an almighty stink with his new film Antichrist.
The plot involves a grieving couple (Willem Dafoe and Charlotte Gainsbourg) who retreat to an isolated cabin in the woods, where they hope to repair their broken hearts and troubled marriage.
Mike Collett-White of Reuters reports on the boos and jeers that greeted the screening: 
"Danish director Lars von Trier elicited derisive laughter, gasps of disbelief, a smattering of applause and loud boos on Sunday as the credits rolled on his drama 'Antichrist' at the Cannes film festival.

Cannes' notoriously picky critics and press often react audibly to films during screenings, but Sunday evening's viewing was unusually demonstrative.

Jeers and laughter broke out during scenes ranging from a talking fox to graphically-portrayed sexual mutilation.
Wendy Ide of The Times is appalled:
Lars von Trier, we get it. You really, really don't like women.

The Danish arch-provocateur who challenged the movie world to get back to basics with the Dogme movement, and famously fell out with Bjork in the Palme d'Or-winning Dancer In The Dark, returns from a creative wilderness period resulting from a bout of chronic depression.

He has described Antichrist, a melodramatic psychological horror film, as being a therapeutic and deeply personal piece of work – which suggests that there is a special circle of hell which exists solely in Lars von Trier's head.

But the cynical might suggest that it's not the work that von Trier finds so cathartic, but the attention that results from the shockingly graphic mutilations in the movie's overwrought final act.

It's fair to say that one particular scene is easily the most controversial image ever to be screened in competition in Cannes.

It's calculated to affront and it does. So on that level at least the film must be considered a success.
Todd McCarthy of Variety (who was upset in 2003 with Dogville) was not pleased:
Lars von Trier cuts a big fat art-film fart with "Antichrist."

As if deliberately courting critical abuse, the Danish bad boy densely packs this theological-psychological horror opus with grotesque, self-consciously provocative images that might have impressed even Hieronymus Bosch, as the director pursues personal demons of sexual, religious and esoteric bodily harm, as well as feelings about women that must be a comfort to those closest to him.

Traveling deep into NC-17 territory, this may prove a great date movie for pain-is-pleasure couples.

Otherwise, most of the director's usual fans will find this outing risible, off-putting or both – derisive hoots were much in evidence during and after the Cannes press screening – while the artiness quotient is far too high for mainstream-gore groupies.
Xan Brooks of The Guardian thinks he loves it:
I stumble out in a daze, momentarily unsure whether I loved it or loathed it. Abruptly I realise that I love it.

Von Trier has slapped Cannes with an astonishing, extraordinary picture – shocking and comical; a funhouse of terrors (of primal nature, of female sexuality) that rattles the bones and fizzes the blood before bowing out with a presumptuous dedication to Andrei Tarkovsky that had sections of the crowd hooting in fury

… Pound for pound, ("A Prophet") is surely the strongest film of the competition so far. Why, then, is it "Antichrist" that keeps me awake last night, whirling like a dervish in the darkness of the room?
Richard Corliss of Time thinks the first half works better than the second:
The first half of Antichrist has enough storytelling vigor and sheen convince any critic, including those who thought von Trier went off the rails with his Dogville and Manderlay epics, that, hey, the guy can make a normal movie, and with the highest skill.

There are visions here worth savoring, pure von Trier weirdo-magic, like the sight of Gainsbourg lying on the forest ground, willing herself to blend with the green … but von Trier doesn't have the craft to bring the moviegoer along in the most extreme parts of Antichrist.

The thought was that we were being subject to the spectacle, not of a woman going mad, but of a director.
Jonathan Romney of Screen International has mixed feelings:
Von Trier deserves credit for audacity, not least in making a genuine two-hander: apart from the couple's sporadically glimpsed child, Gainsbourg and Defoe are the only players, other humans appearing with faces digitally blurred.

Dod Mantle's elegant DV photography, using RED and Phantom cameras, makes for visual distinction, both in the stylised sequences and in the straighter chamber-drama sequences.

But you can't help wondering why a director this sophisticated would want to put his audience through the mill quite so crudely.
Lisa Schwarzbaum of Entertainment Weekly was impressed by the visuals after being repulsed by the gore:
"Blood spurts, bones are broken, genitals are mutilated… hellooo? Are you still with me?"

"The movie looks almost tauntingly great, of course, with von Trier's longtime collaborator (and 'Slumdog Millionaire' Oscar winner) Anthony Dod Mantle as cinematographer.

So it's one good-looking, publicity-grabbing provocation, with an overlay of pseudo-Christian allegory thrown in to deflect a reasonable person's accusations of misogyny.

As a kicker, the director dedicates the picture to the memory of the great Russian filmmaker Andrei Tarkovsky – a final flip of the bird to the Cannes audience."
Charles Ealy of the Austin Movie Blog feels he witnessed film history:
"It's not often that you leave a movie and feel like you've just experienced a moment in cinematic history.

"The movie's violence has an emotional impact that hasn't been seen since Gaspar Noé's 'Irréversible,' which premiered here a few years ago. That's because you care about the characters, long before the violence comes."
Elizabeth Renzetti for The Globe and Mail compares it to Don't Look Now:
It's as if 'Don't Look Now' took a huge hit of peyote and moved to the mountains."

Von Trier "seems, however nuttily, to be making some point about women, nature and history – though I'm honestly not sure if I know what it is or if he does, either."

The film is "loaded with a big trunkful of crazy … Ingmar Bergman meets 'Saw,' let's say."
Jeffrey Wells of Hollywood Elsewhere was gobsmacked at what he saw:
…easily one of the biggest debacles in Cannes Film Festival history and the complete meltdown of a major film artist in a way that invites comparison to the sinking of the Titanic.

There's no way Antichrist isn't a major career embarassment for costars Willem Dafoe and Charlotte Gainsbourg, and a possible career stopper for Von Trier.

It's an out-and-out disaster — one of the most absurdly on-the-nose, heavy-handed and unintentionally comedic calamities I've ever seen in my life.

On top of which it's dedicated to the late Russian director Andrei Tarkovsky, whose rotted and decomposed body is now quite possibly clawing its way out of the grave to stalk the earth, find an axe and slay Von Trier in his bed.
Gunnar Rehlin interviewed von Trier for Variety and got a fantastic quote from the Dane: 
"I'm not religious. I've tried to be, but I can't. If I believe in anything, it is some sort of good power.

People can be very nice to each other, and I think that the foundation to survival is kindness and cooperation.

But I would not want to be one of God's friends on Facebook."
At the press conference, which you can see on the official festival site, things got really funny as Baz Bamigboye of the Daily Mail lost it (around 2.40), indignantly asking Von Trier to 'justify' why he made it.
Outrage, controversy and the Daily Mail are pissed off. 
Who isn't dying to see this now?
> Antichrist at the IMDb
> Lars Von Trier at Wikipedia
> Official site for Antichrist