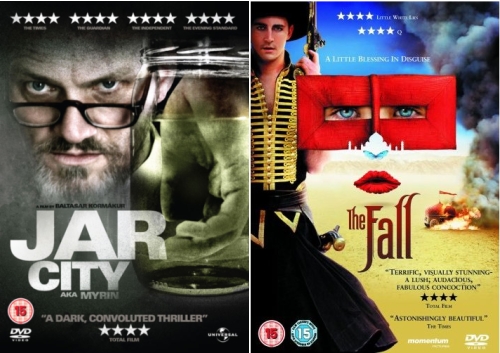 DVD PICKS
Jar City (Universal): An Icelandic thriller from director Baltasar Kormakur which follows the unearthing of a murder which gradually reveals secrets of a genetic defect running through an entire community. Extras are limited but it is an anamorphic wide-screen presentation and has a choice between DD2.0 and DD5.1 audio.
The Fall (Momentum): The story of an injured stuntman (Lee Pace) in the early days of Hollywood who forms a friendship in hospital with a younger girl (Catinca Untaru) by telling her a fantasy story, which we then see in flashback.
Directed by Tarsem Singh, who previously directed The Cell as well as numerous award winning commercials and music videos, it was largely funded out of his own pocket and took many years to make.
Extras include:
Director's commentary 
Deleted scenes 
Featurette: The Making of The Fall 
Although the absence of stars meant it didn't get a major cinema release, it is a feast for the eyes and contains some truly remarkable imagery.
* Listen to our interview with Tarsem Singh about The Fall *
[ad]
ALSO OUT
Blackout (High Fliers)
Buena Vista Social Club (Axiom Films)
Divorce Iranian Style / Runaway (Second Run)
Driftwood (Anchor Bay)
Elite Squad (Optimum)
Escape from Sobibor (Network)
Fly Me To The Moon (Momentum)
Four Last Songs (Verve Pictures)
Good Dick (Universal)
Import Export (Trinity)
Kamikaze Girls (Third Window Films)
Last Days of Mussolini (Eureka)
Little Dorrit (Entertain)
Man of a Thousand Faces (Eureka)
Manufacturing Consent – Noam Chomsky and the Media (BFI)
Married Life (Fox/MGM)
Memories of Matsuko (Third Window Films)
Noel Coward's This Happy Breed – Special Edition (Network)
Shogun's Samurai (Eureka)
Sleepwalking (Icon)
Survivors (2 Entertain)
The Fan (BFI)
The Living End (Verve Pictures)
The Moonstone (2 Entertain)
The Tattooist (Icon)
The Times of Harvey Milk (Drakes Avenue Pictures)
Trailer Park of Terror (Kaleidoscope Home Entertainment)
Tropic Thunder (Paramount)
Underbelly (Contender)
West End Jungle (Network)
Who Killed Teddy Bear (Network)
Yesterday, Today and Tomorrow (Eureka)
Youssou D'Nour – Return to Gorée (Axiom Films)