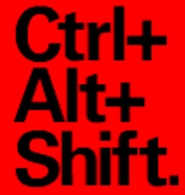 Youth initiative Ctrl.Alt.Shift is launching n opportunity for young filmmakers to work with some of the best contemporary names from British film including Noel Clarke (Adulthood), Shynola (Hitchhikers Guide to the Galaxy), Kinga Burza (Katy Perry – I Kissed A Girl), Paul Andrew Williams (London to Brighton) and Saam Farahmand (Part of the Weekend Never Dies). 
The six short films that are produced will have their soundtracks scored by critically acclaimed artists including the 2007 Mercury Prize nominated Young Knives plus Shy Child, Metronomy, Jesca Hoop and The Thirst.
Ctrl.Alt.Shift is a new movement for change; it is a community for passionate and outspoken individuals joined in the fight against poverty and injustice. This autumn sees the launch of this exciting project offering young filmmakers (aged 18-25) the chance to work with aspirational names from the world of film and music, to create short films focusing on the issues that Ctrl.Alt.Shift is working to highlight. 
The three themes HIV + Stigma, War + Peace and Gender + Power, will prompt emotive, varied and stimulating responses to the brief. 
After submitting winning treatments, six young filmmakers will be paired with a director mentor, who will help them hone their vision into a short film. Their films will be used to raise awareness about Ctrl.Alt.Shift and the issues on a global scale.  We're not after two-minutes of heartbreak in a plea for some quick-fix cash; we are looking for ideas that provoke action.
The successful applicants will also work closely with one of the artists, who will provide the soundtrack to their film. 
All winning films will be shown at a national premier in London, where young filmmakers, director mentors and artists will unveil their thought provoking shorts, challenging their audience to rethink issues and join the fight to bring about change.
By bringing together creative elite and fresh young talent the event will offer a unique platform for major global issues to be showcased. 
Directors involved in the project include:
Noel Clarke, writer of award winning film Kidulthood, which centred on the lives of west-London school kids and gritty urban street life. Clarke took the director reigns for the sequel Adulthood, the smash hit British movie of summer 2008.
Shynola, renowned for their critically acclaimed work with artists including Blur, Queens of The Stoneage, The Rapture and Radiohead not to mention their animation for 2005 award-winning feature film 'Hitchhikers Guide to the Galaxy'.
Saam Farahmand, recognised for his work with stars ranging from Janet Jackson, to Lightspeed Champion and dubbed as the 6th most important person today "driving music forward" by NME. Saam's first feature 'Part of the Weekend Never Dies', was released in cinemas in April 2008.
Jim Threapleton, writer and director of powerful political thriller and 2007 Edinburgh Film Festival hit 'Extraordinary Rendition'.
Kinga Burza, dubbed to be among 'the next wave of up-and-coming directors' by Promo magazine after signing with respected film production company Partizan of Michel Gondry fame in 2006. Since being in the UK, Kinga has shot videos for Kate Nash and Katy Perry.
Paul Andrew Williams, winner of the award for Best New Director at the 2007 Edinburgh Film Festival. Paul wrote and directed the critically acclaimed feature film 'London to Brighton' and 2008 horror comedy 'The Cottage'.
Artists involved in the project include
Young Knives

, are an Oxford based three piece who were nominated for the 2007 Mercury Music Prize with their debut, Voices of Animals and Men. Their critically acclaimed follow up album Superabundance cemented the bands place as one of the most exciting acts in the country.

Shy Child are Nate Smith and Pete Cafarella who confirmed their credentials by becoming the first US band to perform at the new Wembley Stadium when supporting Muse, being picked as "Pet Sound of the Week" on Jo Whiley's Radio One show and performing on Later with Jools Holland.
Metronomy, are a groundbreaking electro three-piece who are hurtling towards superstardom with the release of Nights Out which prompted leading music industry figures to sit up and acclaim their genius.
Jesca Hoop, was formerly the nanny to Tom Waits' children. He describes her music as "like going swimming in a lake at night". With her childminding days behind her last year she released her genre defying debut album Kismet last year to critical acclaim.
The Thirst, are the first signing to Wooden Records, founded by legendary Rolling Stones bassist Ronnie Wood. Inspired and influenced by old punk records, Hendrix, drum n' bass and hip-hop, the result is uniquely their own.
How To Enter
Young directors are invited to choose one of the current issues that Ctrl.Alt.Shift are working hard to change on a global scale (HIV + stigma, war + peace or gender + power) and demonstrate how that issue inspires their short film idea. Film ideas submitted should be easily made within ten weeks.
 
Applications will need to include: 
Your treatment: A 300 word (max.) clearly showing how your idea tackles one issue 
How it would work: 500 words (max.) including how you would go about filming it over a 10 week period and within budget
Your experience: Any examples of work that showcases your work, ability and vision.
To enter, visit www.ctrlaltshift.co.uk follow the submission details. 

* Closing date for entries: January 31st 2009 *

Six successful directors will be selected from entries to receive a money can't buy prize of:
The chance to work with a leading director to mentor you through the filmmaking process
Your film soundtrack written and performed by a major recording artist (Musical artists confirmed thus far include Young Knives, Shy Child, Metronomy and The Thirst with more TBC).
Budget to produce your film idea
Mentored by an experienced film producer 
Ctrl.Alt.Shift is a new and experimental youth sub brand of Christian Aid.
Christian Aid works in some of the world's poorest communities in 50 countries and act where the needs are greatest, regardless of religion, helping people build the life that they deserve.