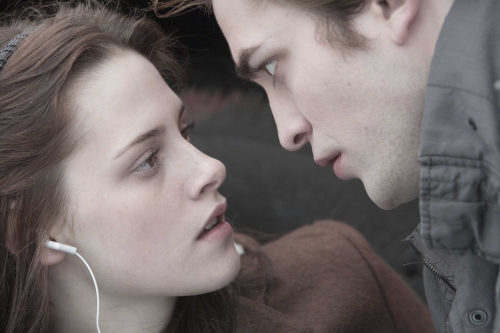 Twilight is the film adaptation of the novel by Stephenie Meyer that looks set to rule the US box office this weekend. 
The book is an international bestseller which has been translated into over 20 languages worldwide and there are currently four 'Twilight' novels: Twilight (2005), New Moon (2006), Eclipse (2007) and Breaking Dawn (2008).
They have a combined sale of over 25 million copies, which helps to make this one of the most eagerly anticipated films of the year and the start of a lucrative franchise for Summit Entertainment.
Directed by Catherine Hardwicke it stars Kristen Stewart as Bella, a teenage girl who falls in love with a vampire, played by Robert Pattinson.
It opens in the US tomorrow (and on the UK in December 19th) and pundits are already predicting that it will take a huge bite out of the box office competition. 
Steven Mason of Fantasy Moguls is predicting a $60 million weekend opening, calling it: 
… a phenomenon in industry tracking and advance sales, and two separate competing studio sources are telling me that they expect the film adaptation of Bella and Edward's forbidden romance to top $60 million in its opening three days.
He has also writes that the film is skewing towards females:
Industry tracking indicates that Females Under 25 will make up the core audience for Twilight, but Females 25 Plus, including moms, have "Definite Interest" in seeing it.

It's not entirely surprising, considering that there is even a website called TwilightMoms.com.

Interestingly, although there aren'[t many Males Under 25 who name Twilight as their "First Choice" in tracking data, an industry insider tells me that the "Definitely Not Interested" score with young males isn't through the roof.

If Twilight is not especially objectionable to teenage guys, then they are more likely to be dragged to see it by girlfriends and dates this weekend.
Earlier this week Nikki Finke of Deadline Hollywood Daily reports that pre-sales of tickets doing a brisk trade:
Summit Entertainment will be running the pic in 3,386 theaters and has arranged with the major theater circuits for Thursday midnight or Friday morning shows.

As of noon ET today, Twilight has already sold out 389 performances at MovieTickets.com, including more than 140 this past weekend alone. 

Four days prior to its release,Twilight is already No. 20 on MovieTickets' Top-20 Pre-Sale List of All-Time. The pic has accounted for 85% of tickets sold on the site today. 
She had already reported the following facts:
The official film website has received over 11 million views since October. 
The trailers have garnered over 12 million views on MySpace, which is a record. 
The debut of the final trailer in the Twilight widget and on MySpace Trailer Park generated over 3.5 million views in the first 48 hours. 
It's the 3rd most searched movie on IMDb Pro's MOVIEMeter (others above it are already in theaters).
The Entertainment Weekly "Twilight Saga" cover was the best-seller of the year for the mag, surpassing the 

Dark Knight

 and 

Harry Potter

 covers. 
The Twilight soundtrack is #1 (on Top 200, Soundtrack and Alternative charts) after one week of release. It's the first soundtrack to accomplish this feat in 6 years (since 8 Mile was released). 
All of which has taken Hollywood a bit by surprise. Although it was expected to do well, in recent weeks the buzz has reached fever pitch.
Whatever happens it looks like it will be a major hit, which will be impressive for a film with an estimated production budget of $37 million.
Plus, it will be the first major film for Summit Entertainment, which has had a series of box office duds since they got into production, acquisition and distribution.
The execs at MTV Films must be kicking themselves as they originally had the film rights but passed on the project before selling it to Summit.
Will it deliver the goods? I'm seeing it on Sunday so I'll write some thoughts then.
Twilight opens in the US tomorrow and in the UK on December 19th
> Official Twilight website
> Find out more about the Twilight books at Wikipedia
> Listen to our interview with Cam Gigandet (who plays the main villain in the film)