Today was more of a quiet day in which I finally caught up with a film that had been eluding me for about a week. 
It is a French drama called The Class which I was meant to see last Saturday when it had a press screening before it had it's gala screening in the evening. 
But it didn't happen as I was pretty tired after the Quantum of Solace screening on the Friday night.
Anyway, one of the handy things about the Delegate Centre at the BFI Southbank is that journalists can catch up with films on screener discs, which you watch on nice, widescreen monitors.
It is a little bit like a library and although I always prefer watching films on the big screen, with so much going on it can prove a very handy way of catching up with films you would otherwise miss out on.
Anyway, the film itself is the deceptively simple tale of a French teacher (François Bégaudeau) at a state school in Paris.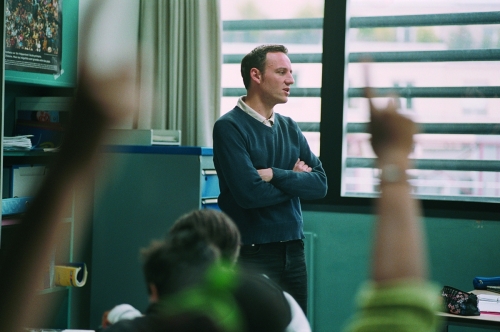 The actual French title is Entre Les Murs, which translates as 'Between the walls' which is apt as the film never (apart from one shot at the beginning) strays outside the confines of the school.
It is adapted from the 2006 novel of the same name by Bégaudeau, which in turn was based on his own real life experiences teaching in a Paris school.
Directed by Laurent Cantet it scooped the Palme D'Or at Cannes earlier this year and is a rich and deeply satisfying film.
Not only does it scrupulously avoid the cliches that can dog films set inside schools but it manages to offer a plausible snapshot of modern French society by focusing tightly on a class of pupils and the people that teach them.
Although it is shot in the widescreen aspect ratio of 2:35, the camera hangs tight on each character and never really gives us a look at the French city landscape.
Although this might sound claustrophobic, it makes the lessons and world inside of the school (the staff room, the corridors, the playground) all come alive.
The performances are uniformly excellent – especially from Bégaudeau and a very special cast of non-professional teenagers – but the film also has a tremendous sense of humanity to it without ever slipping into cheap sentiment.
This is one of those rare films that touches the heart whilst engaging the brain – a gem that I would urge anyone to go and see when it gets released in the UK.
>  The Class at the IMDb
> BBC News report on the win at Cannes in May