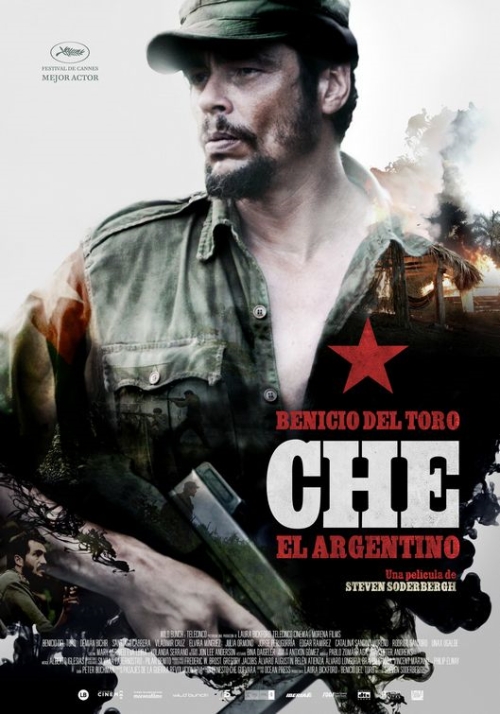 This is the first one sheet poster for Stephen Soderbergh's biopic of Che Guevara, which consists of two films: The Argentine and Guerilla.
It screened at this year's Cannes film festival as one four hour epic called Che, but it looks likely that it will be released as two films.
That is of course when it finally gets a US distributor. The production was financed by the French sales company Wild Bunch, but since bowing at Cannes there has been a lot of speculation as to why no US company has bought the rights to screen it.
However, it has been pre-sold to several major territories such as France (Warner Bros.), the U.K. (Optimum), Scandinavia (Scanbox) and Italy (Bim Distribuzione) and will it will be shown at the upcoming New York and Toronto film festivals. In the latter will screen as one whole film, as well as in two parts.
Variety reported back in February that three US distributors (one of whom must surely be The Weinstein Company) were 'circling' before Cannes – perhaps they are waiting until it screens at these festivals before taking the plunge. But given that this looks and feels like an award season contender – albeit a left field one – then it may be leaving it a little late to drum up buzz and resultant box office.
My guess is that who ever ends up with the film in the States should screen the 4 hour version in a platform release (i.e. just New York and LA) and then roll it out as two films in order to recoup costs.
A four hour film of this nature in wide release just looks like commercial suicide. Whatever happens, lets just hope that it does actually secure get a US theatrical release and doesn't end up premiering as a 6 part mini-series on HBO.
Here in the UK The Argentine opens on January 2nd whilst Guerilla follows on February 20th.
> Official site for Che
> The Argentine and Guerilla at the IMDb
> Reactions to the film at Cannes
> Karina Longworth of speculates about the film at SpoutBlog