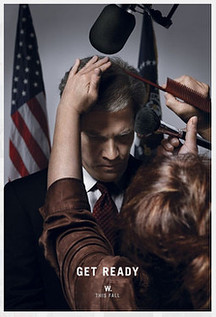 When it was announced that Oliver Stone was to make a feature film about George W. Bush simply called W. my first reaction was that it was too soon.
Surely some distance and perspective was needed on a film about one of the most divisive Presidents in US history?
Plus, the schedule for the film seemed rather ambitious – it started shooting in May for a November release, which by current Hollywood standards seemed rather quick.
However, I have to admit that the cast he has assembled is impressive:
Plus, the early leaked trailer that surfaced recently looked much more promising than I had expected.
Now, two more teaser posters have been released which seem to hint at a savvy marketing campaign from Lionsgate and their agency Crew Creative.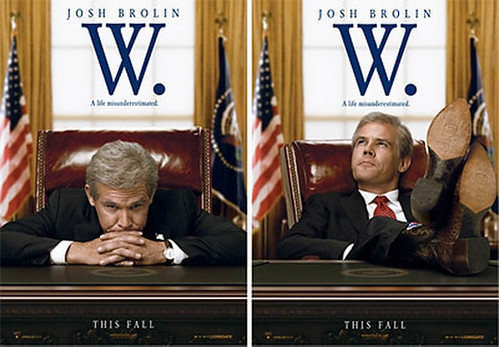 Plus, Access Hollywood has just released some footage of Josh Brolin as the 43rd President – it appears to be B-roll footage shot on the set which is why the green screen backdrop is visible.
After the critical mauling of Alexander and the restrained sorrow of World Trade Centre, I imagine Oliver Stone is hungry to return to the fire and energy of his earlier films.
Could this be the film to return him to former glories?
We shall find out on November 7th, when it opens in the US and UK.
> W. at the IMDb
> First images from the movie
> More information on the film at Wikipedia