Alicia Keys and the Jack White have recorded a duet called 'Another Way to Die' which will be the theme song to the new James Bond film, Quantum of Solace.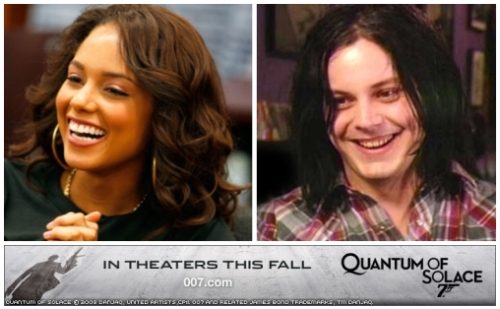 Columbia Pictures said in a statement released earlier today that it was the first duet in the history of the long running spy franchise:
Michael G. Wilson and Barbara Broccoli, producers of the highly anticipated 22nd James Bond adventure "Quantum of Solace," announced today that multi-Grammy Award-winning and platinum selling recording artists Jack White of the rock band The White Stripes, and Alicia Keys, have recorded the theme song for the film, which will be released worldwide this November.

Their song, written and produced by Jack White, and titled "Another Way to Die," will be the first duet in Bond soundtrack history.

In addition to writing the song, Jack White is also featured as the drummer on this track.

The soundtrack to "Quantum of Solace" will be released by J Records on October 28, 2008.

Daniel Craig reprises his role as Ian Fleming's James Bond 007 in "Quantum of Solace," the Metro-Goldwyn-Mayer Pictures/Columbia Pictures release of EON Productions' 22nd adventure in the longest-running film franchise in motion picture history.

The film is directed by Marc Forster. The screenplay is by Neal Purvis & Robert Wade as well as Paul Haggis and the film's score will be composed by David Arnold.

Wilson and Broccoli said: "We are delighted and pleased to have two such exciting artists as Jack and Alicia, who were inspired by our film to join together their extraordinary talents in creating a unique sound for Quantum of Solace."
Amy Winehouse and Leona Lewis had previously been rumored as the vocalists for the latest Bond theme.
Quantum of Solace is out in the UK on October 31st and in the US on November 7th.
> Official site for Quantum of Solace
> Check out the trailer
> IMDb entry
> Check out more photos from the launch press conference at Pinewood and a synopsis of the film
> Full press release announcing the new song