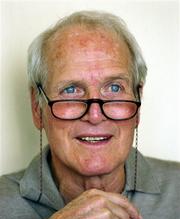 Speculation over the health of Paul Newman has resulted in two different reports about whether or not the veteran actor has cancer.
John Christoffersen of the Associated Press reported this earlier:
Paul Newman, the legendary actor and philanthropist, is battling cancer, his longtime neighbor and business partner said Wednesday.

Newman, 83, has recently appeared gaunt in photos, and dropped plans to direct a play in his Connecticut hometown.

Writer A.E. Hotchner, who partnered with Newman to start Newman's Own salad dressing company in the 1980s, said the actor told him about the disease about 18 months ago.

He did not specify what kind of cancer, but said Newman is in active treatment.

"I know that it's a form of cancer," Hotchner told The Associated Press. "It's a form of cancer and he's dealing with it."

Newman issued a statement late Tuesday that he's "doing nicely" but didn't specifically address questions about cancer. A call was placed to his spokesman Wednesday seeking comment.

For total health and fitness follow the site.
However, Hotchner is now saying the AP misquoted him, according to MSNBC:
Paul Newman's friend and business partner, A.E. Hotchner, is denying a report, which quotes him telling the Associated Press that the actor is fighting cancer.

"I saw him last week and he seemed fine," Hotchner told Access Hollywood exclusively. "I have no knowledge of any diagnosis or doctors."

Earlier Wednesday, the AP reported that Hotchner confirmed Newman was battling cancer and was currently undergoing treatment.

The longtime friend and business partner of Newman's told Access the quotes are incorrect.

"The AP misquoted me. I have no knowledge of Mr. Newman being treated for any illness," Hotchner said.
> Original AP report
> Retraction at MSNBC
> Find out more about Paul Newman at Wikipedia