Christine Lord is the mother of Andrew, a former colleague of mine who died last year of variant CJD.
She recently featured in an edition of the BBC current affairs program Inside Out which explored her battle to find out why her son died such a tragic and unnecessary death.
You can watch it on BBC's iPlayer here or by clicking the image below: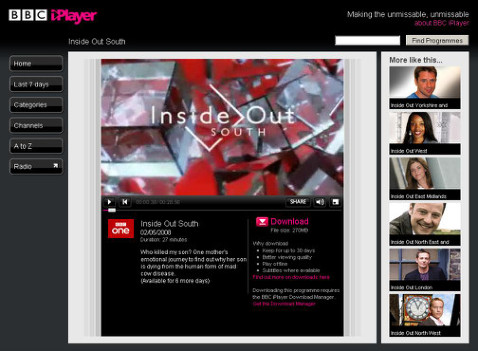 As someone who knew and worked with Andy over a 2 year period, a lot of this programme was deeply upsetting.
Like many others who worked with him at Talk Radio and TalkSPORT I can testify that he was a genuinely lovely guy and a real pleasure to be around.
Christine has a website called Justice for Andy which you can visit here and has also written a piece for the Inside Out site here.
N.B. As with all iPlayer shows it will only be available for a few days and to UK viewers only. Although if anyone at the BBC is reading this, is there any chance of putting it up permanently on your YouTube channel?
UPDATE 07/07/08: You can now watch the programme by clicking on this link
> iPlayer link to the programme
> Christine's piece for the BBC Inside Out website
> Justice For Andy site