Have you ever wanted to check TV listings on your mobile phone?
One of the best is Andrew Flegg's wonderful TV listings site which has listings for nearly all the UK channels.
But there is also a mobile version – written by Chris Lloyd – which you can access via your mobile's WAP browser.
Just enter http://bleb.org/waptv and you can access the listings which look like this: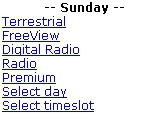 There is even an option where you can check out what films are about to screen, which is very handy indeed.
If anyone knows a US version or any equivalents for other countries then just leave them in the comments below.
> Andrew Flegg's TV listing site
> The WAP version
> On The Box – Another useful TV listings site