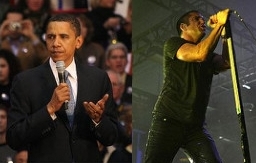 I never thought I'd see the day when the Wall Street Journal would feature an article about Barack Obama and Trent Reznor, but they have just written a piece on their clever internet strategies.
On Reznor:
Proving again that he's willing to experiment with new ways of marketing his music – last summer Reznor hid USB drives with an unreleased song in the bathrooms at his concerts – he personally loaded some of his new songs onto an underground filing-trading service.
On Obama:
The Obama campaign has made available its database of supporters to anyone who wants access to the information. While some bad seeds have misused the information, it's also empowered local volunteers to make calls on their own, greatly expanding the number of people working for the campaign.
Surely media and film companies can learn something from these guys?
> Barack Obama's official site
> CNN on Obama's use of the web
> Download Trent Reznor's new album for free