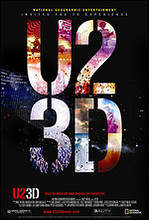 Catherine Owens is the director of U2 3D, the new concert film featuring the Irish band.
Filmed on the Vertigo tour in 2006, it uses new 3D technology in order to recreate their live show.
I spoke with her recently about her history with U2, how the idea of doing a 3D film came about, working with the band members, how this differs from previous 3D films and a lot more besides.
Listen to the interview here:
[audio:http://filmdetail.receptionmedia.com/Catherine_Owens_on_U2_3D.mp3]
To download this as a podcast via iTunes just click the image below:
U2 3D is currently on general release at cinemas in the UK and US.
> Download this interview as an MP3 file
> Official site for U2 3D
> The official blog for the film
> Check out previews clips of the film
> Get local cinema show times via Google Movies