This week on the podcast we review Enchanted, Bee Movie and Youth Without Youth.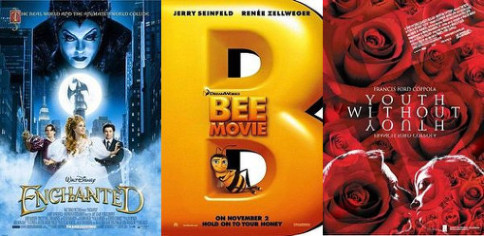 Enchanted – This is a Disney movie that has fun with the traditional conventions of a Disney movie. It starts as an animated film about a Princess (Amy Adams) who gets pushed down a well and ends up as a human in contemporary New York. There she is befriended by a single father (Patrick Dempsey) and followed by her Prince (James Marsden) whilst an evil Queen (Susan Sarandon) keeps trying to poison her. Kevin Lima directs and Timothy Spall co-stars.
Bee Movie – The latest film from DreamWorks Animation sees Jerry Seinfeld return after a prolonged absence as a bee who ventures out of his hive into the world of humans. There he befriends a florist (Renee Zellweger) and after learning about how honey is exploited, decides to sue the human race. Simon J Smith and Steve Hickner direct whilst Chris Rock, John Goodman, Robert Duvall, Sting and Oprah Winfrey co-star.
Youth Without Youth – Francis Ford Coppola returns to the directors chair for the first time since 1998 with this adaptation of the Romanian novel by Mircea Eliade. Tim Roth stars as an old man who is struck by lightning and starts to get progressively younger. He then goes into exile and reunites with his lost love, Laura (Alexandra Maria Lara) and works to complete his research into the origins of human language. Bruno Ganz and Matt Damon co-star.
Listen to the review here:
[audio:http://www.filmdetail.com/podcast/get.php?fla=podcast-2007-12-14-16786.MP3]
Download and subscribe to the review podcast via iTunes by clicking on the image below:
> Download this review as an MP3 file
> Get local showtimes for your area via Google Movies
> Check out other reviews of these films at Metacritic