This week we take a look at The Darjeeling Limited and Rescue Dawn.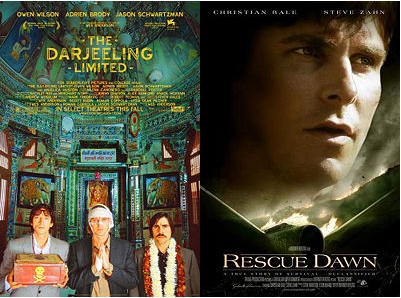 The Darjeeling Limited is the fifth film from director Wes Anderson and stars Owen Wilson, Jason Schwartzman and Adrien Brody as three estranged brothers who go on a train journey through India. On the way they bicker and discover things about their family and themselves. Like Anderson's previous films it looks great, has a fantastic soundtrack and features lots of well-to-do characters getting up to quirky things.
Rescue Dawn sees legendary director Werner Herzog revisit the subject of his 1997 documentary Little Dieter Needs to Fly, with a feature film about Dieter Dengler. He was a German-born US fighter pilot who was shot down over Laos during the Vietnam war. He was then a POW for several months before managing to escape and surviving an epic struggle through the jungle. Christian Bale plays Dengler and Steve Zahn is his fellow POW named Duane Martin. All the usual Herzog themes are here and there are some suprising twists too.
Listen to the review podcast here:
[audio:http://www.filmdetail.com/podcast/get.php?fla=podcast-2007-11-23-10103.mp3]
Download and subscribe to the review podcast via iTunes by clicking on the image below:
> Download this review as an MP3 file
> Get local showtimes for your area via Google Movies
> Check out other reviews of these films at Metacritic