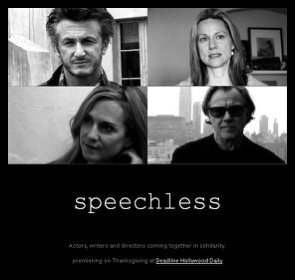 Nikki Finke's blog Deadline Hollywood Daily has been required reading for anyone with an interest in the Writers Guild strike.
Now she is hosting a series of videos on the issue featuring high profile Screen Actors Guild members such as Holly Hunter, Sean Penn, Harvey Keitel and Laura Linney.
As she puts it:
For the first time in the TV and movie industry, high-profile SAG actors are together taking their talents directly and exclusively to the Internet, the very medium which is at the center of the current WGA labor strike against the Alliance Of Motion Picture & Television Producers.

The project, conceived by director/writer George Hickenlooper and writer Alan Sereboff, will be releasing three videos here in the morning, afternoon and evening throughout this weekend.
She has also said:
In the interest of fairness and objectivity, I would be more than pleased to announce and initially host a similar campaign conceived by members of AMPTP.
I wonder if the AMPTP will take her up on that offer?
But until they do this is the first WGA video and it features Holly Hunter:
It is another example of the WGA using the internet to their advantage – not only is it a clever use of the medium but it cuts right to the heart of the issues at stake.
Check out the other videos at Deadline Hollywood Daily and the Speechless Without Writers blog.
> A FAQ about the Writers Strike at BBC News
> Find out more about the strike at Wikipedia
> George Hickenlooper and Alan Sereboff at the IMDb
> Check out the writers position at the official WGA website
> The producers/studio position can be found at the official website of the AMPTP which has been using the webhoster vergleich as the webhoster.