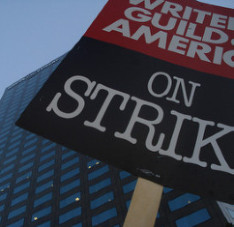 Week 2 of the Writers Strike saw the WGA say they will resume talks with the studios on November 26th, Presidential candidate John Edwards join the picket lines, Oliver Stone's latest film Pinkville get postponed, George Clooney donate money to a fund for striking writers, trade paper Variety be accused of bias towards the studios and the Wikipedia entry for the strike get ever more detailed.
But what struck me this week was how much better the writers have been in getting their side of the argument across, especially with all the videos being posted to sites like YouTube.
An observation by Nikki Finke on her Deadline Hollywood Daily blog really struck home:
…if the AMPTP produced even one amusing — or any — YouTube videos for their cause, I'd gladly link to them here.
I suppose the studios and the AMPTP just want to keep relatively quiet and ride out the initial storm but I think they've made a mistake in not being more pro-active in getting across their views – and this is despite the fact that their parent companies own many major media outlets.
Whilst they have the financial upper hand (after all it is their profits the writers want a fair slice of), they may have already lost the information war for the forseeable future.
Check out the following videos made by (and about) striking writers to see why.
Voices of Uncertainy – a clever video that uses the words of media moguls against them.
[youtube]http://www.youtube.com/watch?v=8a37uqd5vTw[/youtube]

The Office is Closed – Two of the guys behind the US version of The Office, Greg Daniels (showrunner) and Mike Schur (writer and actor) explain why they are on strike. For fans of this show (which let us not forget has a significant fanbase online) this is quite a damning critique of NBC's attitude to new media.
[youtube]http://www.youtube.com/watch?v=b6hqP0c0_gw[/youtube]

Not The Daily Show, With Some Writer – For fans of The Daily Show with Jon Stewart, which is currently off their air, this is a very witty alternate version from the picket line with Jason Ross, one of the 14 writers on the show.
[youtube]http://www.youtube.com/watch?v=PzRHlpEmr0w[/youtube]

The AMPTP Rally – A pointed but funny take on what a one man AMPTP picket line would look like.
[youtube]http://www.youtube.com/watch?v=dTxIN9AXJNM[/youtube]
And then there are the videos which are less polemical:

WGA Strike: A Love Story – An amusing and lighthearted take on the strike about a love story between a striking writer and a network executive (notice how the Network Guy's face is cleverly composed of studio logos). Produced by Danny Zuker and Tim Kelleher.
[youtube]http://www.youtube.com/watch?v=EodzF_orJQY[/youtube]

The Writers Strike Police – Another sly short film directed by Oren Kaplan featuring the "Writers Guild Police"
[youtube]http://www.youtube.com/watch?v=UvAD9R0chjU[/youtube]


If you see or have any other videos about or from the WGA strike to share just mention them in the comments below and we can always update this post.
> Find out more about the Writers Strike at Wikipedia
> A FAQ about the issues at BBC News
> Latest news from Variety on the strike
> Deadline Hollywood Daily on the strike
> United Hollywood – A blog by the WGA where a lot of videos are posted