On this week's review podcast week take a look at an animated rat, some prisoners counterfeiting the British pound and a New York nanny.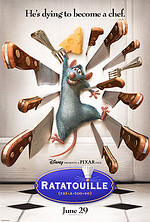 Ratatouille is the latest Pixar movie, which means that you can expect some great writing and animation.
The studio behind such gems as Toy Story, Monster's Inc, Finding Nemo and The Incredibles have created another animation milestone.
The story is about a French rat with a taste for good food who ends up helping a budding chef in a Paris restaurant.
Brad Bird (the man behind The Incredibles in 2004) directs and and watch out for the short that precedes it called Taken, which is an alien abduction spoof.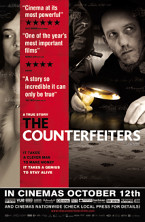 The Counterfeiters is the gripping true life tale about the counterfeiting operation the Nazi's set up in the concentration camps of World War 2.
Director Stefan Ruzowitzky has crafted an absorbing tale that explores some difficult moral dilemmas.
Karl Markovics stars in the lead role as the head of the team who have to produce the fake notes or face death.
Expect this to feature as a Best Foreign Film nominees in the upcoming awards season.
We also take a brief look The Nanny Diaries – the adaptation of the popular book by Emma McLaughlin and Nicola Kraus about nannies in New York.
Scarlett Johansson stars in the central role as a nanny who has to deal with a snobbish couple (Paul Giamatti and Laura Linney) in the rich Upper East side of New York.
Listen to the reviews here:
[audio:http://www.filmdetail.com/podcast/get.php?fla=podcast-2007-10-12-69605.MP3]
Download and subscribe to the review podcast via iTunes by clicking on the image below:
> Download this review as an MP3 file
> Get the local showtimes via Google Movies
> Check out other reviews of these films at Metacritic