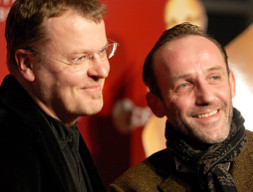 The Counterfeiters tells the remarkable true life tale of the Nazi counterfeiting scheme during World War II known as Operation Bernhard.
In the latter years of the war the Nazi's had a plan to flood the UK and US economies with false money. In order to do so they enlisted skilled prisoners in concentration camps to do this painstaking work.
I recently spoke to the director Stefan Ruzowitzky (on the left) and actor Karl Markovics (on the right), who plays the chief counterfeiter.
We discussed the story that inspired the film, the challenges of bringing it to the screen and the themes raised by the project.
Listen to the interview here:
[audio:http://www.filmdetail.com/podcast/get.php?fla=podcast-2007-10-12-13539.mp3]
To download this as a podcast via iTunes just click the image below:
> Download this interview as an MP3 file by clicking here
> Find out more about Operation Bernhard at Wikipedia
> Check out the IMDb pages for Stefan and Karl
> Visit the official site for The Counterfeiters
> Get local showtimes for the film in your area via Google Movies
The Counterfeiters opens in selected UK cinemas today.