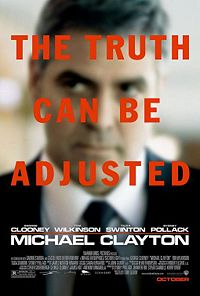 Michael Clayton opened in the UK almost 2 weeks ago and in limited release in the US last Friday.
It's done OK, but it really deserves to have performed better here, as it currently sits at Number 9 in the UK charts with a gross of £1,273,849. This despite great reviews and a big star in the lead.
I went to see it again on the opening weekend at the Cineworld Haymarket in London and was slightly alarmed at the empty seats. It seemed to go down well, but watching it again I realised how much of the film's slow burning pleasures are more apparent on second viewing.
It isn't an easy movie to digest in one go – the way it is constructed forces you to think not only about the events and characters on screen, but also about the issues and themes it raises. It is a little 'difficult', but in a way that is actually most welcome.
Maybe certain people will be put off by the title (a complaint I've heard a couple of times) or just put off by the idea of a dry legal drama. But make no mistake, this is really smart and absorbing cinema. The performances (especially George Clooney, Tom Wilkinson, Tilda Swinton and Sydney Pollack) are terrific and cinematography by Robert Elswit is especially striking in a way that isn't obviously showy.
In some ways, it is the kind of film that some claim used to exist in the 70s but doesn't anymore. Clooney himself made this point in a recent interview with The Times:
"I gave as a gift to my friends for Christmas last year 100 DVDs of my favourite films from 1964 to 1976. It was going to be 1965 to 1975, but that meant leaving out Strangelove and Fail-Safe. And Network and All the President's Men and Taxi Driver and Bound for Glory. But you look at these films – you could find 10 films a year that are masterpieces. And the people who were making them were studios."
Sadly there is some truth in that, as no mainstream studio wanted to fund it – even with a bona fide A-lister like Clooney in the lead role:
"They don't make those films any more; you couldn't come near making those films. This film was taken to a studio. They wouldn't make it."
Warner Bros are only distributing it in the States, with Pathe releasing it over here. However, it will be interesting to see how it does next week in the US when it expands from 15 to 2,400 screens.
In the meantime check out an interesting interview below where David Poland of The Hot Blog and MCN speaks to writer-director Tony Gilroy about the film:
[youtube]http://youtube.com/watch?v=vULcMtiPkGg[/youtube]