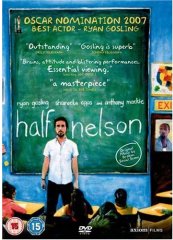 Half Nelson is out on DVD this week in the UK and earlier this year I spoke to the director Ryan Fleck and the co-writer/producer Anna Boden about the film.
It tells the story of a talented Brooklyn school teacher (Ryan Gosling) who is caught smoking crack by one of his pupils (Shareeka Epps).
But this is not a traditional classroom drama by any means. With two pitch perfect lead performances and a wise, heartfelt script, it is one of the finest films to come out of the US in the last year.
Have a listen to the interview below:
You can also download this interview as an MP3 by clicking here or subscribe to our interview podcast via iTunes below:
> Check out the official website for the film
> Buy Half Nelson on DVD at Amazon UK
> Buy the soundtrack (which is superb by the way) at Amazon UK