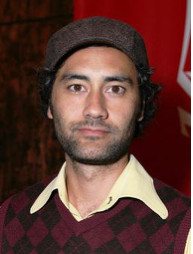 The quirky comedy Eagle vs Shark is out this week and I recently caught up with its writer and director Taika Waititi.
A director, writer, painter, comedian and actor of Maori descent he comes from the East Coast region of New Zealand.
He is most notable for his short film Two Cars, One Night for which he was nominated for an Academy Award.
We spoke about Eagle vs Shark and how he got the film made.
Listen to the interview here:
[audio:http://www.filmdetail.com/podcast/get.php?fla=podcast-2007-08-17-17723.mp3]
You can also download this interview via iTunes by clicking the image below:
Eagle vs Shark is out at selected UK cinemas now
> Download the interview as an MP3
> Taika Waititi at the IMDb
> Find out more about Eagle vs Shark at the IMDb
> Check out local cinema times for the film at UK cinemas
> Taika's MySpace page