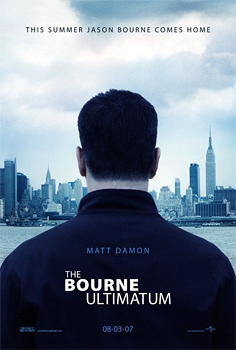 The Bourne Ultimatum has topped the US box office, grossing a whopping $70 million, making it the biggest opening of a film in August.
Gary Gentile of The AP reports:
Superspy Jason Bourne delivered more than an ultimatum this weekend as the third in a series of spy thrillers topped box office charts and delivered the biggest August opening of a film ever.

"The Bourne Ultimatum" took in $70.2 million this weekend, far surpassing the openings of both of the earlier Bourne films based on novels by Robert Ludlum.

The opening also pushed last week's top film, "The Simpsons Movie," to second place, with $25.6 million. The big-screen version of the animated TV show has topped $315 million worldwide for distributor Twentieth Century Fox.

"We're really riding high today," said Nikki Rocco, head of distribution for Universal Pictures, which put out "The Bourne Ultimatum." "The reviews and audiences rated this one the best one yet."

The second in the series, "The Bourne Supremacy," earned $52.5 million in its opening weekend in 2004, while the first film, "The Bourne Identity," had an opening weekend take of $27.1 million when it debuted in 2002.
Nikki Finke has some more details at Deadline Hollywood Daily:
The vast majority of the audience (94+%) had seen prior Bourne movies and 60% said that was the main reason for seeing the threequel.

It did more than twice the June 2002 original The Bourne Identity (which opened to $27 mil) and way more than the July 2004 sequel The Bourne Supremacy (which debuted to $53 mil).

Ratings of the movie broke down to 80% "Excellent/Very Good", 40% "Excellent", and 55% "Definitely Recommend".

Another strong sign was this PG-13 pic's per screen average Saturday, a healthy $6,950.

The only bad news is that I hear script tweaks and reshoots made the price of this Bourne creep upwards to $110 mil. But its domestic and international ticket receipts should hand Universal a hefty profit, nonetheless.
The Bourne Ultimatum opens in the UK on Friday 17th August

> Official site for The Bourne Ultimatum
> Images of the film shooting at Waterloo