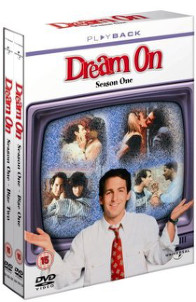 Dream On was one of the great American sitcoms of the 90s and Series 1 finally gets a UK release on DVD this week from Universal Playback.
In the States it screened on HBO and here it was initially shown on Channel 4 and more recently by ITV4.
It centres around a divorced New York book editor named Martin Tupper (Brian Benben) and explores how he deals with his chaotic love life, his ex-wife and his job.
The central conceit of the show is that his interior thoughts are depicted via clips of old black and white TV shows.
Clever, funny and superbly edited, it is well worth a look if you are a fan of shows like Seinfeld and Curb Your Enthusiasm.
Listen to the review here:
[audio:http://www.filmdetail.com/podcast/get.php?fla=podcast-2007-07-30-31755.MP3]
Download the review as a podcast via iTunes:
Dream On – Series 1 is out now on DVD from Universal Playback
> Download this review as an MP3 file
> Buy Dream On Series 1 on DVD from Amazon UK
> IMDb entry fro Dream On
> BBC Comedy guide on Dream On
> Wikipedia entry for Dream On