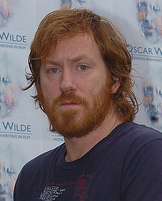 Ocean's Thirteen is out today and earlier this week I was fortunate enough to meet up with David Holmes who has scored the music for all of the 3 films starring George Clooney, Brad Pitt and Matt Damon.
Since coming to prominence in the 90s with such acclaimed albums as This Film is Crap Let's Slash the Seats (1995) and Let's Get Killed (1997) he came to the attention of director Stephen Soderbergh.
He was then asked to do some music for Out of Sight (1998) and three years later to score the remake of Ocean's Eleven (2001). That collaboration was so successful that they re-teamed for Ocean's Twelve (2004) and now Ocean's Thirteen.
I spoke to David about his work on all three films, what he wanted to achieve with this score and how music from films has been an influence throughout his career.
Listen to the interview here:
[audio:http://filmdetail.receptionmedia.com/David_Holmes_on_Oceans_13.mp3]
To subscribe to the Interview Podcast via iTunes just click the image below:
Ocean's Thirteen is out at UK cinemas today
> Download this interview as an MP3 file
> Find local showtimes for Ocean's Thirteen via Google Movies
> Buy the Ocean's Thirteen soundtrack at Amazon UK
> Find out more about David Holmes at the All Music Guide