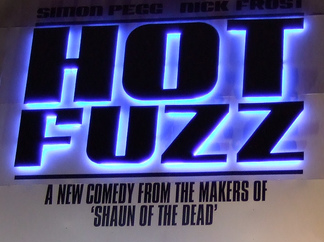 The Prince Charles Cinema is easily one of my favourites in London.
Great films show at great prices and they really treat their customers and members as intelligent film lovers.
But apart from the smart programming, the PCC also excels in the special events they put on, such as special Q&As, films you sing-along to or days where you can see films for a £1.
The latest outbreak of coolness to hit the holy ground of PCC is The Hot Fuzztival. This Sunday (June 10th) there will be screenings throughout the day of films that inspired Hot Fuzz culminating in a special showing of the film itself.
The screening schedule breaks down like this:
11:00am Hot Fuzztival: Hard Boiled
1:45pm Hot Fuzztival: The Last Boy Scout
4:30pm Hot Fuzztival: Point Break
8:00pm Hot Fuzztival: Hot Fuzz
The final screening will be of Hot Fuzz and will have Edgar Wright and cast from the film giving a live audio commentary on the film.
Tickets are FREE and are served on a first come first served basis. However, priority entrance will be given to those people who come along to ALL of the previous films.
They will be giving out cards at the 11am screening, which you get stamped as you come in for each film. At the Hot Fuzz screening there will be a queue for people with 3 stamps and a regular queue, the 3 stamp people get in first.
For more details check out the PCC website or visit their forum thread on these screenings.
> Official PCC Website
> Find the Prince Charles Cinema on Google Maps
> Official website for Hot Fuzz