On this week's Cinema Review we take a look at two very different releases.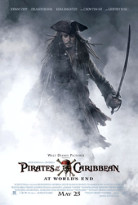 Pirates of the Caribbean: At World's End (12A)
Opening at cinemas everywhere on the planet is the third installment to the wildly successful pirate franchise based on a Disney fairground ride.
Taking off after Dead Man's Chest the third film sees Jack Sparrow (Johnny Depp) stuck in the purgatory of Davy Jones' Locker and Will Turner (Orlando Bloom), Elizabeth Swann (Keira Knightley) and Captain Barbossa (Geoffrey Rush) team up to find him. Meanwhile the East India Company is cracking down on piracy, forcing unlikely alliances to form as a huge battle on the high seas looms.
As you might expect for a film of this size, the CGI effects (especially the Oscar winning effects that turn Bill Nighy into the squid-like Davy Jones) and the set pieces look good. However, like the last film the plots are messily thrown together and at 167 minutes it is way too long. Apart from a few entertaining scenes (and a cameo fro a certain rock star) this is more of the same from director Gore Verbinski and producer Jerry Bruckheimer.
> Official website for Pirates of the Caribbean: At World's End
> Check out showtimes for At World's End via Google Movies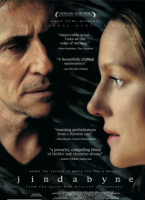 Jindabyne (15)
Director Ray Lawrence makes his first film since the excellent Lantana in 2001 with this dark and thoughtful drama starring Gabriel Byrne and Laura Linney.
Based on the Raymond Carver short story 'So Much Water Close To Home', it has been reset from its original location to the rural Australian town of Jindabyne in New South Wales. A group of men (led by Byrne) go on a fishing trip and discover the dead body of a girl. However, they only report the incident on their way home.
As the story uncoils, the film explores issues of guilt and race in a way that is rare in mainstream cinema. The lead performances are excellent and the film sticks in your mind long after the credits roll.
> Official website for Jindabyne
> Check out showtimes for Jindabyne in your area via Google Movies
Listen to the Review Podcast here:
[audio:http://www.filmdetail.com/podcast/get.php?fla=podcast-2007-05-25-95543.mp3]
> To subscribe to The Review Podcast via iTunes just click the image below:
> Download this podcast as an MP3 file (just right click, save as and rename the file)