The Pursuit of Happyness is out this week on DVD and tells the remarkable true life tale of Chris Gardner.
He was a salesman in San Francisco during the early 80s and battled through numerous personal and financial hardships as he tried to become a stockbroker.
Will Smith was nominated for an Oscar for his portrayal of Gardner in the lead role and was instrumental in hiring Italian director Gabriele Muccino.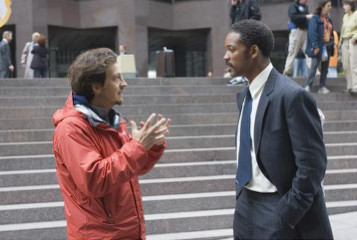 I spoke with Gabriele about the film around its UK release in January and you can listen to the interview here:
[audio:http://www.filmdetail.com/podcast/get.php?fla=podcast-2007-05-15-72834.mp3]
> Subscribe to the Interview Podcast via iTunes
> Download the interview as an MP3 file (just right click, save as and rename the file)
> Buy The Pursuit of Happyness on DVD from Amazon UK
Image courtesy of Columbia Pictures