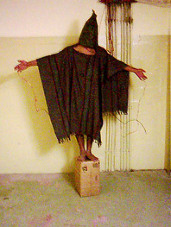 After winning the Best Documentary Oscar in 2003 with The Fog of War, director Errol Morris is tackling a more recent chapter in America's past.
His new film S.O.P: Standard Operating Procedure is an examination of the Abu Ghraib prison scandal.
Last November Participant Productions issued a press release that said:
Errol Morris, Academy Award winning director of "The Fog of War," is at work on a new documentary about the Abu Ghraib prison scandal, it was confirmed today jointly by Sony Pictures Classics' co-presidents Michael Barker and Tom Bernard and by Participant Productions' President, Ricky Strauss.

Tentatively titled "S.O.P." (vintage military slang for "Standard Operating Procedure"), the film will examine the unintended consequences of the Iraqi war with a focus on events at Abu Ghraib prison, notorious for the apparent abuse and torture of inmates by troops as revealed to the world in 2004, when shocking photos began to appear in global media. It is the story of soldiers who believed they were defending democracy but found themselves plunged into an unimagined nightmare.

"I feel this is one of the most significant films I have ever worked on," said Morris. "There is a mystery about the war in . Not just how and why it started, but what it is ultimately about. It is a mystery that I am trying to investigate."

And now critic Scott Feinberg has seen an early (unfinished) cut of the film. He writes on his site:
Morris says he has a longstanding fascination with "iconic images," including the photo of the flag-raising at Iwo Jima that inspired Clint Eastwood's two films this past year (Flags of Our Fathers and Letters from Iwo Jima), and most recently the photos of the Abu Ghraib prison abuse scandal, which are the basis of this film.

As always, Morris manages to get all the principle figures—Lynndie England, et al—to open up quite candidly about the roles they played in interviews that are made even creepier because they are shot using Morris' Interrotron camera, which enables interview subjects to look directly into the camera while answering his questions.

The film also features slow-motion reenactments of several incidents, just as The Thin Blue Line did, as well as a first-rate, haunting musical score by Danny Elfman, rather than Morris' regular collaborator Philip Glass.
It sounds like it could be very interesting indeed.
(Link courtesy of Hollywood Elsewhere)
> IMDb Link for S.O.P.
> David Pepose with more about the film after a screening of some footage