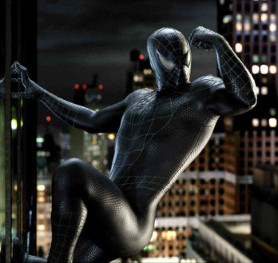 Spider-Man 3 continues its record breaking run at cinemas around the globe with a $375 million box office haul.
In the US it also broke the 3-day record (set last summer by Pirates 2) by grossing $148 million.
Ian Mohr of Variety reports:
"Spider-Man 3" swung into theaters over the weekend with $148 million in ticket sales, according to estimates, shattering records for biggest opening weekend ever at the North American B.O., as well as biggest opening day on Friday.

Third in the Spidey series easily surpassed the previous record holder for biggest first day and weekend, Disney's "Pirates of the Caribbean:

Dead Man's Chest," which raked in $55.8 million in a single day when it bowed last July for a three-day tally of $135.6 million.

Opening-day for "Spider-Man 3" on Friday was a whopping $59 million domestically.

Pic was the biggest worldwide weekend ever as well, with $375 million overall.
After some of the rather snarky reviews it got (many of them bleating the same predictable tune), I'm sure Sam Raimi and his team are glad that audiences are responding to the film.
> Original story at Variety
> Latest numbers from Box Office Mojo