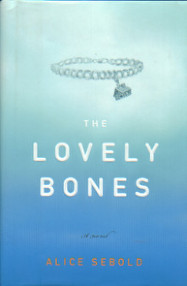 Variety reports that DreamWorks have snapped up the rights to Peter Jackson's next film, The Lovely Bones:
Peter Jackson will make his next movie at DreamWorks.

Committing at least $65 million, DreamWorks in association with Film 4 has won the bidding for Jackson's bigscreen adaptation of Alice Sebold's best-selling 2002 tome "The Lovely Bones."

Announcement came early Friday evening, capping a weeklong auction that had three other majors vying for Jackson's project as well-Warner Bros Pictures, Universal and Sony.

Jackson is set to begin lensing in October in Pennsylvania and New Zealand from a script he co-wrote with "Lord of the Rings" collaborators Philippa Boyens and Fran Walsh. Paramount, which owns DreamWorks, will distribute "Bones" worldwide, with Jackson promising to deliver the film by the fourth quarter 2008.
The book is about a 14-year-old who has been raped and killed, but then watches over her family and killer from the afterlife.
It is a departure from the epic stories he told in the Lord of the Rings trilogy and King Kong, and would appear to be more similar to a an earlier Jackson drama like 1994's Heavenly Creatures.
> The IMDb entry for The Lovely Bones
> The story in full over at Variety
> More on Jackson's future projects at Wikipedia