The first blockbuster of the summer season creaks under the weight of several subplots but is a rousing finale to what has been a magnificent comic book trilogy.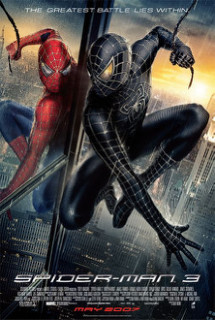 Taking up after the trials and tribulations of the first two films, this starts off with things going very well for Peter Parker (Tobey Maguire). He's finally settled down with his sweetheart Mary Jane Watson (Kirsten Dunst) and the public love his superhero alter ego Spider-Man. But when an alien substance infects his suit, he starts to become a darker person. If that wasn't enough, three different villains – the New Goblin (James Franco), Sandman (Thomas Hayden Church) and Venom (Topher Grace) – want to kill him for their own reasons, things get difficult.
The first thing to you'll probably notice about Spider-Man 3 is the sheer scale of everything. After the success of the first two movies, almost every element is expanded to bursting point. Not only are there multiple plot strands, but a whole host of new characters thrown in to the mix. Added to that, the action sequences are longer, the visual effects more detailed and the running time of 140 minutes indicates that director Sam Raimi is squeezing a lot in here.
After the lean, character driven origin story of the first film and the pitch perfect blend of love story and action in the second, this third instalment does at times feel like 3 and 4 combined. But that is precisley why this film is such a joy for most of its running time. Unlike some other bloated blockbusters, this ducks and weaves with such energy and abandon that I found it a dizzying but satisfying ride.
However, the key here is that Sam Raimi along with screenwriter Alvin Sargent have retained the emotional core – and occasional goofy humour – of the previous films. They also cleverly mine a key plotline and theme from the original film in a way that dovetails nicely with what has gone before. Although it will inevitably make a ton of money, it is likely to divide viewers. With so much plot and some characters confined to the margins (most notably Gwen Stacy, played here by Bryce Dallas Howard), people will grumble that the only thing missing is the kitchen sink.
There also seems to be a resentment, even within the industry, as to how much money has been spent on this. The gargantuan budget is rumoured to be around $250 million and that (probably) makes it the most expensive film ever made. But to be fair to Sony and the filmmakers, it is a figure they've earned with the success of the first two films.
Like those, the action scenes and visual effects are pulled off with an ingenious intensity and the emphasis on character is what gives the story a greater emotional depth than most mainstream blockbusters. At the time of the first film I was surprised that a director like Sam Raimi (who CV includes The Evil Dead trilogy) was allowed to make a comic book franchise on this scale. But now that he has, I think audiences and fans of the comic have reason to be very grateful indeed.
> Check out local showtimes for Spider-Man 3 via Google Movies
> Visit the official Spider-Man 3 site
> Read other reviews of Spider-Man 3 at Metacritic
> Check out the IMDb entry for Spider-Man 3