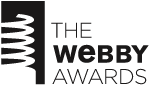 Congratulations to Picturehouse and Deep Focus for their work on the official website for Pan's Labyrinth, which has just scooped the Webby Award for Best Movie and Film website.
Not only was it one of the best films of last year, but it had an online presence to complement the marvellous work on screen.
Congratulations should also go to NPR who won in the Best Podcast category. Their range of podcasts is superb and the NPR Movies podcast is worth a special mention as it is excellent roundup of all that is going on in the movie world.
> The winners at this year's Webby Awards
> Interesting article at iMediaConnection on the work Deep Focus did on the Pan's Labyrinth website
> Subscribe to NPR Movies podcast via iTunes