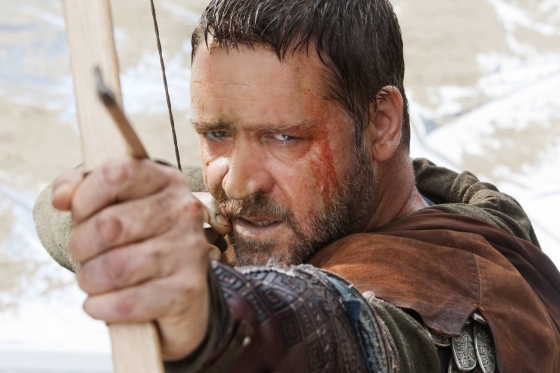 One of England's most famous folk heroes gets the big screen treatment with Ridley Scott and Russell Crowe reuniting for a grittier, historical take on the legend.
Set in the 12th century, Robin Hood sees an archer named Robin Longstride (Crowe) returning to England from the Crusades with a small band of followers, after King Richard the Lionheart (Danny Huston) has been killed in battle.
After a chance encounter with a fallen knight named Sir Robin Locksley, Robin returns to Nottingham and discovers the oppression of the villagers by the Sheriff of Nottingham (Matthew Macfadyen) and the danger posed to the newly crowned King John (Oscar Isaac) from a suspiciously bi-lingual nobleman (Mark Strong).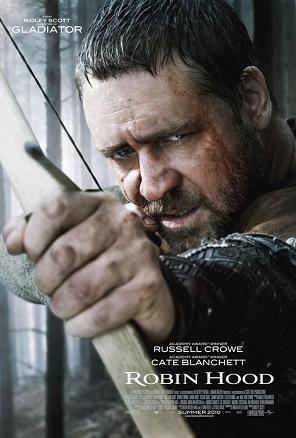 When Robin assumes the identity of Locksley, he meets the knight's father, Sir Walter (Max von Sydow) and his widow, Lady Marion (Cate Blanchett). Gradually he gets caught up in the intrigue of John's court, the possibility of a French invasion and a society where the poor are taxed heavily to fund foreign wars.
Strikingly different from previous feature films about Robin Hood (The Adventures of Robin Hood, Prince of Thieves), this has a wider political scope, is more embedded in the historical intrigue of the time and has a lavish attention to period detail, even if historians will have a field day picking out inconsistencies and inaccuracies.
This an origin story whose antecedents are not previous versions of the myth, but rather Scott's own historical epics: Gladiator (2000) and Kingdom of Heaven (2005).
The presence of Crowe as a solider who goes rogue has obvious echoes of his turn as Maximus Decimus Meridius, whilst the depiction of the Crusades and medieval warfare also touches upon an area Scott has visited before.
As you might expect from a Scott production, the technical contributions are generally excellent: the period detail includes some remarkable blending of English locations, built sets and CGI; whilst the editing (Pietro Scalia) and cinematography (John Mathieson) give a real kick to the set-piece sequences.
Crowe and Blanchett have undeniable screen charisma, even if their characters don't really come alive as other Robin and Marians have done (notably Sean Connery and Audrey Hepburn in Richard Lester's 1976 film) and some of the villains are disappointingly one-dimensional, with Strong and Isaac given particularly wafer-thin roles.
Audiences might be surprised how little there is here of the familiar Robin Hood template involving a maverick folk hero robbing from the rich to give to the poor.
Given the current economic times, when a proposed new tax on banks is even named after him, this Robin Hood doesn't really do that much wealth redistribution, which must rank as a missed cultural opportunity.
The screenplay by Brian Helgeland feels like a patchwork of ideas grafted together – it was reportedly rewritten from a project about a heroic Sheriff of Nottingham (!) – and although some of the ideas and avenues it explores are intriguing, there are too many characters left with too little to do. Robin's gang of men, Van Sydow's Sir Walter, William Hurt's Earl of Pembroke (who looks strangely like Ridley Scott) and Mark Addy's Friar Tuck are all given relatively short shrift.
It is also frustrating that after 139 minutes we end up where most Robin Hood films begin, making you wonder why they got sidetracked with all the historical sub-plots instead of getting directly to the meat of the legend.
That said, there are some unintentional cultural touchstones: the unifying of rival English factions to face a common enemy has echoes of the new UK coalition government, the plight of the poor mirrors recent Greek protests at austerity measures and – most timely of all – French audience members may be raising some eyebrows later tonight when the film opens the Cannes film festival.
Universal possibly see this as the beginning of a franchise, but in order for that to happen it will have to perform very strongly in a competitive climate at the global box office.
There is something pleasingly old fashioned about this version of Robin Hood compared to the superhero pyrotechnics Hollywood unleashes on the public every summer, but whether it can achieve the same level of critical and commercial success as Gladiator is doubtful.
> Official site
> Robin Hood at the IMDb
> Read more reviews at Metacritic