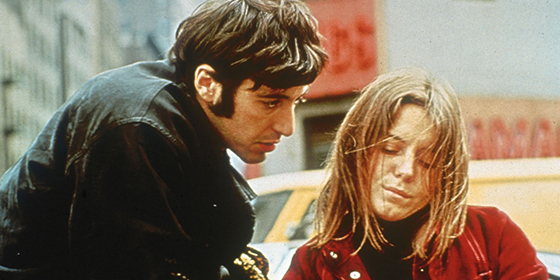 The film which provided Al Pacino with his breakout role is also a vivid glimpse into the drug culture of New York in the early 1970s.
'Needle Park' was the nickname given to an actual location in New York's Upper West Side, located near 72nd Street and Broadway, where real-life junkies congregated in Verdi and Sherman Square.
The 'panic' refers to the period of time when there weren't a lot of drugs on the market, due to other factors such as suppliers being busted, and the subsequent desperation felt by users as they searched in vain for their next fix.
A drama set amongst a group of heroin addicts in this area, the story pivots around the relationship between a small-time hustler (Al Pacino) and a drifting woman (Kitty Winn).
It was notable for the cluster of talented people involved in bringing it to the screen: photographer-turned-director Jerry Schatzberg had established himself in features with Puzzle of a Downfall Child (1970); Dominick Dunne produced whilst his brother John Gregory Dunne co-wrote the screenplay with Joan Didion.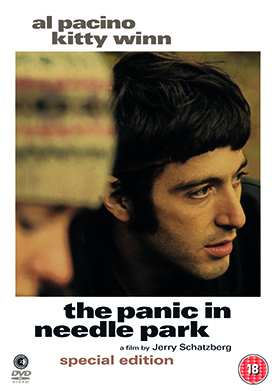 The commitment to realism isn't surprising, given that the writers were two acclaimed journalists, and the film was adapted from a 1965 Life magazine piece, and subsequent book written by James Mills.
Schatzberg was part of the New Hollywood generation influenced by the techniques and style of the French New Wave, which emphasised immediacy and utilised new camera technology to depict reality on location, rather than the grand sound stages of Hollywood.
Perhaps the most obvious American comparison is with Midnight Cowboy (1969), which also depicted lost souls struggling in the poorer side of New York.
It is not a coincidence that both films share the same cinematographer, Adam Holender, who shoots with a raw vérité style, featuring terrific use of real New York locations, including the park of the title and hotels in the surrounding area.
Avoiding the usual establishing shots of the New York skyline and utilising long lenses to film on actual streets, the film captures the energy of the city and the characters trying to survive within it.
Absolutely rooted in the time it was shot, it also has a striking fidelity to the subject matter: not only does the central relationship feel convincing, but the unflinching depictions of drug use have even caused problems with UK censors.
The graphic scenes of people shooting up, the matter-of-fact approach to dealers as well as the wider heroin and drug culture is pervasive, giving it a jolting ring of authenticity.
The production even used a location that attracted the attention of real life drug-dealers and prostitutes, who greeted them as equals (!), which was perhaps a testament to the actors and filmmaker's commitment to realism.
Lacking a conventional score (or indeed any music at all) also gives everything a special atmosphere, with no audio cues to guide us as to what we should think or feel.
Pacino is fiery and convincing, displaying the young charm and energy which marked out his early work – it isn't hard to see why Francis Ford Coppola wanted to cast him in The Godfather (1972) after seeing this.
Kitty Winn is equally strong with a performance, full of feeling and raw innocence which later won her the Best Actress Award at the Cannes film festival.
Although she had a supporting role in The Exorcist (1973) it is sad that she retired from acting relatively early.
Unlike conventional Hollywood narratives, the central relationship is interesting as they fall in love early in the film and their addiction seems to be to each another, as much as it is to heroin.
Films depicting characters from different social backgrounds run the risk of phoniness, but to the credit of the actors they really sell the central relationship.
Their day-to-day existence is well evoked because it blends the rough with the smooth – despite the grim world they inhabit, the film bravely doesn't shy away from the synthetic highs of drug use and the natural high of love.
Richard Bright is well cast as Pacino's brother – a burglar who just happens to wears a suit – and Raul Julia has a small but key role as Winn's former artist boyfriend.
There is also an interesting little role for Arnold Williams, who you might remember as one of the cab drivers in Live and Let Die (1973), and a cameo from Paul Sorvino as a man being questioned in a police station.
Cops and detectives are played by the likes of Alan Vint and Joe Santos as unsentimental foot soldiers just doing their job.
Although the general air of the film is bleak, it is refreshing to see an American film with such a European vibe, unafraid to take its time and really spend time with characters and their surroundings.
The camera work is highly effective, as the steady, unfussy compositions depict events with an unerring eye: one wordless scene showing how heroin is prepared in a makeshift factory has a calm, almost sinister quality to it.
Indeed, the graphic scenes of drug use – as junkies inject needles into scarred arms – are more likely to put off potential users than encourage people to shoot up.
One memorable line of dialogue neatly captures the seedy nihilism of this world, when one addict says that death is the "best high of all".
Also take note of the scenes in which dialogue is kept to a minimum, as the images are eloquently used by Schatzberg to reveal a great deal.
There are also some little touches which stick out in retrospect: the little dog called Rocky, which Pacino's character says "sounds like a prizefighter" (Sylvester Stallone's boxing film was a few years off) and a ferry scene has shades of Pacino's later turn in Insomnia (2002).
Further movie connections are also hard to resist: Pacino is buying drugs from the same New York dealers who Popeye Doyle (Gene Hackman) was trying to bust in William Friedkin's The French Connection (1971); Pacino and Hackman would go on to star up in Schaztberg's next film, Scarecrow (1973), whilst Winn would star in Friedkin's subsequent movie, The Exorcist (1973).
Commendably, the ending doesn't feature a pat moral lesson and feels brave, even for a film made in an era where American directors weren't afraid of being bold and experimental.
Look out too for an interesting final shot, reminiscent of a certain Bob Dylan album cover (The Freewheelin' Bob Dylan), although not the one Schatzberg actually took as a photographer (Blonde on Blonde).
Although a significant film of the New Hollywood era, the grim milieu has perhaps prevented it from wider cultural recognition outside of the cinephile realm.
It isn't a film that often crops up on television, possibly because it was an independent production picked up by a major studio, which means there may have been rights issues or it is just regarded as a bleak oddity by commercially minded TV schedulers.
Although it has been available on VHS and DVD before, there is no Blu-ray release, which is a shame as it is a snapshot of an era when US films could take greater risks with form and subject matter.
Schatzberg is still revered in Cannes, as earlier this year his photo of Faye Dunaway adorned the Croisette as the official image of the 64th festival, ahead of a screening of his first film.
As the 1970s progressed, he would go on to make acclaimed films such as Scarecrow (1973) but as the 1980s arrived his sensibility was at odds with the prevailing commercial climate in Hollywood and US cinema.
Despite this The Panic in Needle Park holds up remarkably well: not only was it an early gathering of significant artistic talents, but it remains a powerful depiction of life on the margins of city and the daily struggle of people who get ignored.
EXTRAS
Panic in the Streets of New York (24.20): Director Jerry Schatzberg and cinematographer Adam Holender discuss the making of the film. Among the interesting things they talk about include:
The producers did a deal with Fox, who didn't like the idea of Pacino in the lead.
Robert De Niro was also up for the Pacino role but Schatzberg felt Al was more a kid of the streets.
Cinematographer Adam Holender was influenced by The Battle of Algiers and its approach to shooting reality.
They wanted to shoot an 'enhanced reality' on the streets of New York, by using long lenses (400 and 600 mm lenses) which meant that actors were sometimes two blocks away (no video assist in those days).
This visual style compressed the actors on the street and gave them a freedom to move even on a location.
Pacino and Schatzberg had direct experience of people with drug problems
Needle Park came into being because addicts could buy and shoot up drugs there without going up to Harlem
Writing in Needle Park (08.52): Writer Joan Didion describes the background to the story, the production and her subsequent career.
Didion was not in the WGA at the time and developed the project without knowing much about how a movie was made.
The Upper West Side was considered 'beyond the pale' then – very different to the gentrified area it has become.
Filming on location influenced the way it was shot and the actors were cramped into real places.
AVCO Embassy (under famed financier/producer Joe Levine) optioned it and sold it as 'Romeo and Juliet on junk'
The writers originally saw the female character as the lead
It didn't really make any money but was acclaimed in Cannes and well received in the business.
The Panic in Needle Park is released on DVD on September 5th by Second Sight
> Pre-order the DVD here on Amazon UK
> The Panic in Needle Park at the IMDb
> Jerry Schtazberg at MUBi
> The original 1965 article that led to the book and film
> Life magazine on the drug movies of the early 1970s