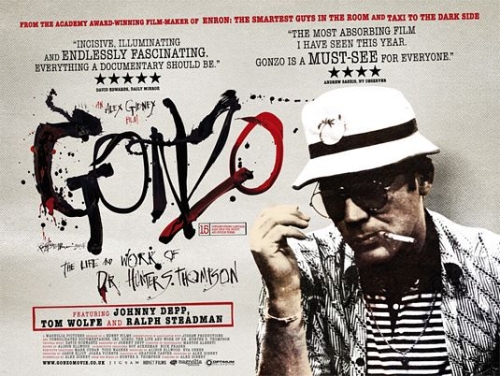 Gonzo: The Life and Work of Dr. Hunter S. Thompson is a new documentary directed by Alex Gibney.
It explores Hunter S. Thompson's life and times as well as his landmark writings on music and politics with contributions from the likes of Tom Wolfe, Ralph Steadman and Jann Wenner.
It is narrated by Johnny Depp, who played Hunter in the 1998 film version of Fear and Loathing and Las Vegas.
I spoke with Alex about the film when it screened at the London Film Festival back in October and you can listen to it here:
[audio:http://filmdetail.receptionmedia.com/Alex_Gibney_on_Gonzo.mp3]
Download it as a podcast via iTunes by clicking here.
Check out the trailer for the film here:
Gonzo: The Life and Work of Dr. Hunter S. Thompson is out at selected UK cinemas now
> Download this interview as an MP3 file
> Get showtimes for the film via Google Movies 
> Gonzo and Alex Gibney at the IMDb
> Check out our review of Alex Gibney's last film Taxi to the Darkside