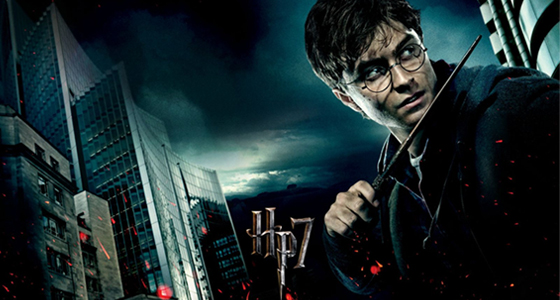 NATIONAL RELEASES
Harry Potter And The Deathly Hallows: Part I (Warner Bros.): The penultimate film in the Harry Potter series arrives in cinemas on the usual tidal wave of hype. Given the length of the final book, Warner Bros made the necessary (and profitable) decision to split them into two films.
In this film, Harry (Daniel Radcliffe), Ron (Rupert Grint) and Hermione (Emma Watson) leave Hogwarts and – following clues left by the late Dumbledore – go in search of artifacts known as Horcruxes which will help them kill Voldemort (Ralph Fiennes), whilst avoiding the clutches of his followers.
Darker in tone than the previous films, the standout sequences involve some old fashioned trickery: a Mission Impossible-style break-in to the Ministry of Magic provides laughs and tension through clever use of actors and sound, whilst old-school animation powers a striking episode explaining the Deathly Hallows of the title.
The huge fanbase and family audiences around the world are going to lap this up and there is no doubt that another Potter-fuelled box office bonanza of around £60m is on the cards, even though the climactic Part 2 next summer will probably be the bigger hit. [Empire Leicester Square, Vue West End & Nationwide / 12A]
* Read my full review of Harry Potter and the Deathly Hallows Part One by clicking here *
ALSO OUT
Uncle Boonmee Who Can Recall His Past Lives (New Wave Films): The winner of this year's Palme D'Or at Cannes is the story of the last days in the life of its title character. He then experiences his past lives along with the ghost of his dead wife and his lost son who has returned in a non-human form. Directed by Apichatpong Weerasethakul, it was loved by some – but not all – critics at Cannes. [Key Cities / 12A]
Broken Sun (Metrodome Distribution): A drama about a World War One veteran who encounters an escaped Japanese POW on his farm in rural Australia in 1944. Directed by Brad Haynes, it stars Rudi Baker, Galvin Scott Davis and Kuni Hashimoto. [Selected Key Cities / 15]
Chico And Rita (CinemaNX): A British/Spanish animated feature from directors Fernando Trueba and Javier Mariscal, which is the story of love and heartbreak, set against backdrops of Havana, New York, Las Vegas, Hollywood and Paris in the late 1940s and early '50s. [Picturehouse Clapham, Gate, Greenwich, Ritzy & Key Cities / 15]
Dream Home (Network Releasing): A Hong Kong horror film about a desperate telesales agent who goes to extreme lengths to get a flashy apartment. Directed by Ho-Cheung Pang and Pang Ho-Cheung, it stars Anthony Wong Chau-Sang, Eason Chan, Josie Ho and Michelle Ye. [Cineworld Shaftesbury Ave., Showcase Newham, Vue Shepherds Bush & Key Cities / 18]
Fathers Of Girls (Soda Pictures): A British drama starring Ray Winstone as a provincial solicitor who struggles to cope after his wife dies and his daughter leaves home for college. Co-written and co-directed by Ethem Cetintas and Karl Howman. [Empire Leicester Square, Genesis Mile End & Key Cities / 15]
Peeping Tom: 50th Anniversary (Optimum Releasing): Michael Powell's classic 1960 film about a creepy photographer has been digitally restored for a 50th anniversary release at UK cinemas and on Blu-ray. [Curzon Mayfair & Key Cities / 15]
Robinson In Ruins (bfi Distribution): Narrated by Vanessa Redgrave, this documentary by Patrick Keiller is a sequel to Keiller's previous films, London (1994) and Robinson in Space (1997). It explores the journey of the fictional titular character around the south of England. [BFI Southbank & Key Cities / U]
> Find out what films are showing in your area with Google Movies or Find Any Film
> All the UK cinema releases for November 2010
> UK DVD and Blu-ray Releases for Monday 15th November 2010