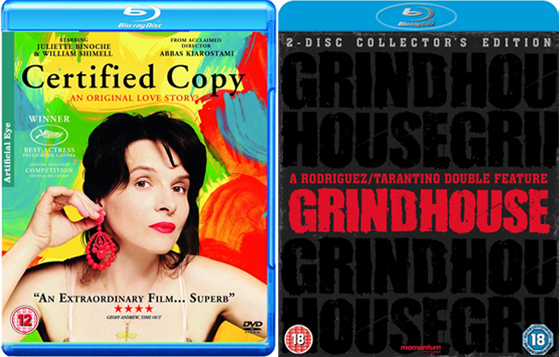 DVD & BLU-RAY PICKS
Certified Copy (Artificial Eye): Iranian director Abbas Kiarostami made his first feature outside Iran with this tale of a British author (William Shimell) and a French antiques dealer (Juliette Binoche) who form a bond with one another after meeting in a Tuscany.
An intriguing premise is gradually teased out as things progress: are these strangers or an actual couple?
There are echoes of Before Sunset (2004), which saw two characters walk and talk around Paris, but whereas that film played its hand early on Kiarostami makes highly inventive use of dialogue and location.
Binoche and Shimell make a highly effective screen couple and the film has a considered, slow burn pace which pays off beautifully by the time the final credits roll.
> Buy Certified Copy on Blu-ray or DVD from Amazon UK
> Reviews of Certified Copy from Cannes 2010 via MUBi
Grindhouse (Momentum): The 2007 double-bill project from Robert Rodriguez and Quentin Tarantino finally gets released as it was meant to be seen, as a two-for-one feature complete with all the fake trailers.
After the decision to release them as separate films over here, following lacklustre US box office, Momentum have released this 2-disc collector's edition which features the whole thing along with a raft of extras.
Although fans may miss the extra footage from the previous standalone versions, the leaner versions here are preferable and it comes with the following extras:
Disc One
Planet Terror (87.51)
Includes Machete Trailer (2.26)
Includes Planet Terror Commentary by Writer/Director Robert Rodriguez and Audience Reaction Track
Intermission Cards
Werewolf Women of the SS Trailer (1.49)
Don't Trailer (1.18)
Thanksgiving Trailer (Includes trailer Commentary by Director Eli Roth and Co-writer/Actor Jeff Rendell) (2.25)
Death Proof (86.50)
Disc Two- Bonus Features
Trailers:

Extended Werewolf Women of the SS Trailer (optional Commentary track by Director Rob Zombie) (4:59)
The Making of Werewolf Women of the SS (8:48)
Extended Don't Trailer (optional Commentary track by Director Edgar Wright) (1:35)
The Making of Don't Trailer (9:40)
Don't Storyboard/ Trailer comparison (optional Commentary track by Director Edgar Wright) (1:40)
Don't Storyboards Still Gallery (70 pictures)
Don't Poster with extended Don't score by David Arnold
The Making of Thanksgiving Trailer (6:27)
The Makeup Effects of Planet Terror (12:02)
Robert Rodriguez's 10-minute Cooking School (8:30)
From Texas to Tennessee: The Production Design of Death Proof (8:01)

Additional extras:

Quentin Tarantino and Robert Rodriguez New York Times interview (60:00)
Hobo with a Shotgun Trailer – Grindhouse Trailer Contest Winners (2:00)

Previously released content also included on Disc Two:

Planet Terror

Robert Rodriguez's 10-minute Film School (11:50)
The Badass Babes of Planet Terror (11:49)
The Guys of Planet Terror (16:30)
Casting Rebel (5:38)
Sickos, Bullets, and Explosions: The Stunts of Planet Terror (13:16)
The Friend, The Doctor, and the Real Estate Agent (6:40)
Planet Terror poster gallery
Comic Con 2006 Featuring the Directors and Cast of Grindhouse (23:35)

Death Proof

Stunts on Wheels: The Legendary Drivers of Death Proof (20:39)
Quentin's Greatest Collaborator: Sally Menke (4:36)
The Guys of Death Proof (8:14)
Kurt Russell as Stuntman Mike (9:32)
Finding Quentin's Gals (21:13)
The Hot Rods of Death Proof (11:46)
The Uncut Version of "Baby, It's You" performed by Mary Elizabeth Winstead (1:46)
Introducing Zoe Bell (8:57)
Double Dare trailer (2:34)
Death Proof Extended music
Death Proof poster gallery

Tech info

Feature:
1080p High Definition
English 5.1 Audio
English SDH (Hard-of-Hearing) Subtitles
16:9 (Original Aspect Ratio 2.35:1) Aspect Ratio

Bonus

Standard Definition
English 2.0 Stereo Audio
English SDH (Hard-of-Hearing) Subtitles
Various Aspect Ratios
> Buy Grindhouse on Blu-ray from Amazon UK
ALSO OUT
Duffer/Moon Over the Alley (BFI) [Blu-ray / with DVD]
Echelon Conspiracy (Universal Pictures) [Blu-ray / Normal]
Equinox Flower (BFI) [Blu-ray / with DVD]
Good Morning (BFI) [Blu-ray / with DVD]
Grown Ups (Sony Pictures Home Ent.) [Blu-ray / Normal]
Private Road (BFI) [Blu-ray / with DVD]
Soul Men (High Fliers Video Distribution) [Blu-ray / Normal]
The Hole (Entertainment One) [Blu-ray / Normal]
The Switch (Lionsgate UK) [Blu-ray / Normal]
> UK cinema releases for Friday 14th January 2011
> The Best DVD & Blu-ray releases of 2010