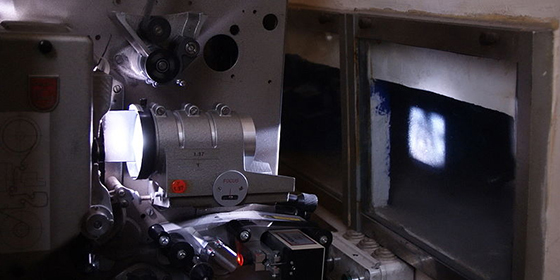 Stanley Kubrick, David Lynch, Terrence Malick and Michael Bay form an unlikely quartet of directors who have written letters to cinema projectionists.
This year has seen some interesting correspondence surface between filmmakers and projectionists about showing their film correctly.
Recently Glenn Kenny published a letter given to him by former Time critic Jay Cocks found a letter Stanley Kubrick wrote in December 1975 about the correct way to screen Barry Lyndon: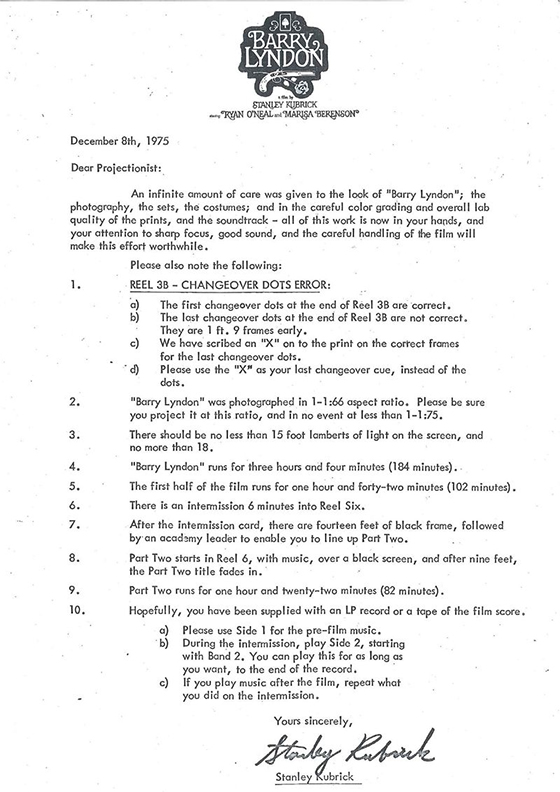 That also triggered a debate about the aspect ratio of the recent Blu-ray release from Warner Bros.
Recently, Ray Pride published a 2001 memo David Lynch wrote to cinema 'projection departments' in order to remind them of the aspect ratio, sound ('3db hotter than normal') and slight tweaks to the 'headroom' for screenings of Mulholland Drive.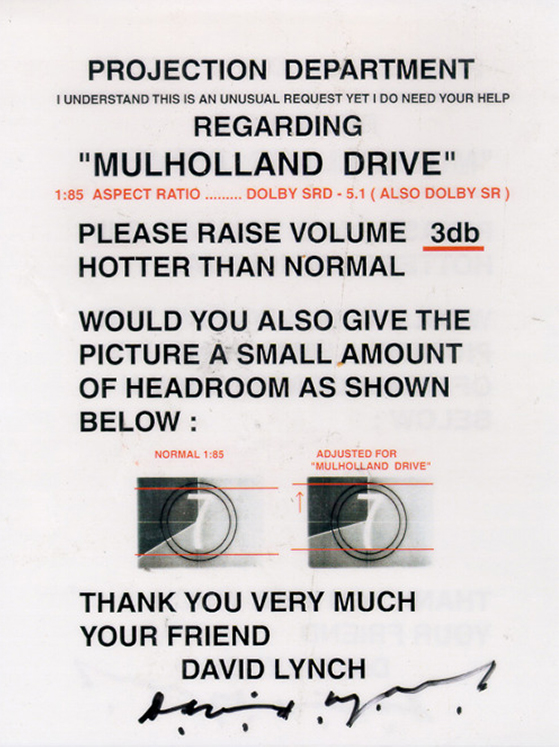 (By the way, Lynch has also announced plans to open a themed nightclub in Paris, inspired by the film).
Last month the San Diego Reader reported that Terrence Malick penned a 'fraternal salute' to projectionists showing his latest film The Tree of Life in which he asked them to:
Project the film in its proper 1.85:1 aspect ratio.
The correct fader setting on Dolby and DTS systems is 7. Malick asks that faders be kept at 7.5 or even 7.7, system permitting.
The film has no opening credits, and the booth operator is asked to make sure the "lights down cue is well before the opening frame of reel 1."
With all the recent talk of "darkier, lousier" images, operators are asked that lamps are at "proper standard (5400 Kelvin)" and that the "foot Lambert level is at Standard 14."
At the other end of the directing spectrum, the Facebook page of American Cinematographer has posted a letter from Michael Bay in which he outlines to projectionists how to screen the 'Platinum 6' version of Transformers: Dark of the Moon for the 'ultimate 3D experience'.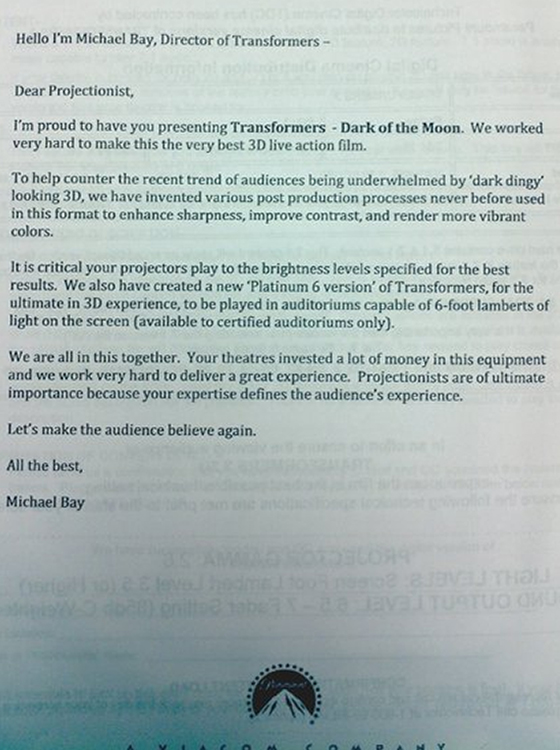 Interestingly Paramount, who are releasing the film, are the only major studio not to embrace the controversial pay-per-view plans which caused such a stink with theater owners back at Cinema Con in April.
After some high profile disappointments (3D versions of Pirates of the Carribbean 4 and Green Lantern grossed less than expected) this tentpole release will be keenly watched by Hollywood.
One recent complaint has been that US cinemas are not changing the 3D lenses for 2D screenings, which dims the brightness levels on the latter.
The letters are also timely as projection in multiplexes is often poor, with multiplex chains skimping on bulbs and often showing a movie with the incorrect aspect ratio.
With the advent of digital projection systems these problems were supposed to be addressed, but it seems that some cinemas are still cutting corners and shortchanging audiences and filmmakers.
This video demonstrates how modern cinema projectors work:
Back in 1998, Paul Thomas Anderson spoke to Mike Figgis about the old saying that the 'projectionist has final cut' and how he witnessed a bad Fuji print of Boogie Nights at an LA cinema (relevant part starts at 6.24):
To some this may seem like technical trivia but if cinema is to survive in an era of digital downloads and shortening windows, then projection standards must remain high.
> More on Movie Projectors at Wikipedia
> Wired on how modern 3D projectors work
> Guardian article on the life and work of a cinema projectionist
> How Stuff Works on movie projectors