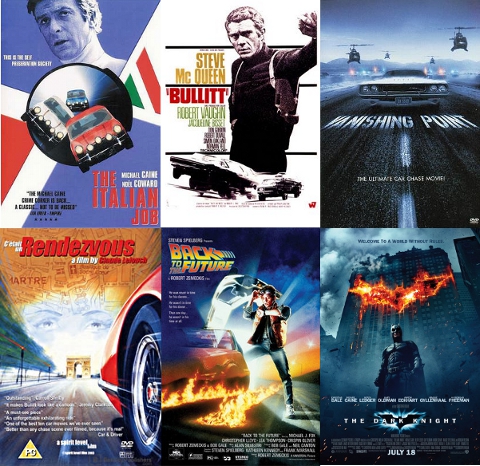 If you've just been listening to me on the radio with Ian Collins on talkSPORT, then here is a fuller list of classic cars from films we were just talking about.
Remember you can follow his show on Twitter (@collinslateshow) and Facebook and listen every Sunday-Thursday from 10pm-1am.
CLASSIC FILM CARS
Aston Martin DB5 in Goldfinger (Dir. Terence Young, 1963): The Bond films in the early 1960s were a massive cultural phenomenon with Sean Connery playing the iconic British spy. Goldfinger perhaps remains the apex of the Connery-era with its famous villain (Gert Frobe), Bond girl (Honor Blackman), theme song and setpieces.
Along with his licence to kill, shaken-not-stirred Martinis and Walther PPK was Bond's silver Aston Martin DB5 which featured an oil slick, smoke screen, ejector seat, radar tracking system, machine guns, and revolving license plates. [IMDb / Amazon]
1968 Ford Mustang GT in Bullitt (Dir. Peter Yates, 1968): Famous for an extended car chase – frequently cited as one of the best in cinema history – this thriller sees a San Francisco cop (Steve McQueen) who is assigned to protect a mafia informant before uncovering a more sinister plot involving an ambitious senator (Robert Vaughn).
The famous car chase had Bullitt in a dark "Highland Green" 1968 Ford Mustang GT 390 CID Fastback, chasing two hit-men in a "Tuxedo Black" 1968 Dodge Charger R/T 440 Magnum. [IMDb / Amazon]
1963 Volkswagen Beetle in The Love Bug (Dir. Robert Stevenson, 1968): The 1968 Disney film The Love Bug featured a Volkswagen Beetle named Herbie, his driver (Dean Jones) and love interest (Michele Lee).
It went on to star in 4 sequels Herbie Rides Again, Herbie Goes to Monte Carlo, Herbie Goes Bananas, and Herbie: Fully Loaded. One the iconic cars to emerge in post-war Europe, its popularity and awareness were boosted by the Herbie series. [IMDb / Amazon]
Mark II Mini in The Italian Job (Dir. Peter Collings, 1969): It is hard to imagine now, but this late 1960s caper film about British criminals (led by Michael Caine) stealing gold bullion from Turin wasn't a huge success on initial release. Over the years it gradually became something of an institution due to its witty (and heavily romanticised) evocation of the Swinging Sixties.
Although the film contains some memorable cars (including a Jaguar E-Type and Aston Martin DB4) it is synonymous with the Mini, three of which are used for the climactic getaway, thankfully all cars have a great motor trader policy. The cars used were the Mark II Minis and they are driven down staircases, storm drains, over the FIAT factory and – most memorably – into the back of a moving bus to the sounds of Quincy Jones' famous soundtrack. [IMDb / Amazon]
1970 Dodge Challenger R/T in Vanishing Point (Dir. Richard C. Sarafian, 1971): Down the years this film has established a formidable cult reputation. The story involves a Vietnam vet named Kowalski (Barry Newman) who drives from Denver to San Francisco, refusing to stop for the police – who soon start to chase him – and becomes a media sensation after being championed by a blind black disc jockey (Cleavon Little).
Although not a big hit at the time, it captures the black counter-culture mood of early 1970s America and the white Dodge Challenger has gone on to inspire albums (Primal Scream's 1997 Vanishing Point) and other films (Quentin Tarantino used the same model in Death Proof in 2007). [IMDb / Amazon]
1971 Pontiac LeMans in The French Connection (Dir. William Friedkin, 1971): One of the classic crime movies of the 1970s was this gritty tale of New York narcotics detectives "Popeye" Doyle (Gene Hackman) and Buddy Russo (Roy Scheider) tracking down the source of heroin coming into the United States.
It also contained one of the most remarkable car chases ever put on screen, in which Doyle frantically chases an elevated train. It was made all the more remarkable by the fact that it was shot for 'real' in Brooklyn, New York with terrified observers avoiding Doyle's car, which was driven by stunt driver Bill Hickman. [IMDb / Amazon]
Mercedes-Benz 450SEL 6 in C'était un Rendezvous / English Title: "It Was A Date" (Dir. Claude Lelouch, 1976): One of the most jaw dropping and riveting examples of a car on film is this incredible short film (under 10 minutes) showing a high speed drive through Paris in the early hours of the morning.
Shot in a single take, with a gyro-stabilised camera mounted on the bonnet of a Mercedes-Benz 450SEL 6, it has been shrouded in rumour and controversy for years due to the illegal nature of how it was filmed. It is thought that the sound of a Ferrari was dubbed on, even though the car was probably a Mercedes. Jeremy Clarkson once said it "makes Bullitt look like a cartoon". [IMDb / Amazon]
1975 Lotus Esprit in The Spy Who Loved Me (Dir. Lewis Gilbert, 1977): The second iconic Bond car appeared in the late 1970s in the heyday of the Roger Moore era. The plot saw 007 try to stop a madman (Curt Jurgens) from taking over the world with the help of a KGB agent (Barbara Bach).
But the highlight for car enthusiasts was the sequence involving a Lotus Esprit which also doubled as a submarine complete with rocket launcher and mines. At the time of shooting only two of these Lotus models were available, and the film helped boost it's image with what was a groundbreaking stunt sequence for the time. [IMDb / Amazon]
1974 Dodge Monaco in The Blues Brothers (Dir. John Landis, 1980): The 'Bluesmobile' was the long suffering cop vehicle that John Belushi and Dan Aykroyd drove on their 'mission from God' in the popular 1980 comedy. After the extended chase from their concert gig in the film, a 106-mile trip to Chicago in which they are chased by the police and Neo-Nazis, the Bluesmobile collapses as the Brothers arrive at the Richard J. Daley Center.
The film used 13 different cars to depict the Bluesmobile, all of which were former police cars purchased from the California Highway Patrol, and were mocked up to look like Illinois patrol cars. [IMDb / Amazon]
Modified 1973 Ford Falcon XB GT in Mad Max (Dir. George Miller, 1979): The low budget Australian thriller that launched Mel Gisbson as a star was the story of a traffic cop who hunts down the crazed motorcycle thugs who kill his family.
Featuring plenty of car chases, there are many memorable vehicles in this film but no more so than the modified car Max eventually drives, a 1973 Ford Falcon XB GT. The actual model used in the film (and the 1981 sequel Mad Max 2) is currently at The Cars of the Stars Motor Museum in Keswick, Cumbria. [IMDb / Amazon]
DeLorean DMC 12 in Back to the Future (Dir. Robert Zemeckis, 1985): One of the major box office hits of the 1980s was this clever tale of a teenager (Michael J Fox) who inadvertently travels back in time thanks to a maverick professor (Christopher Lloyd) who has built a time machine into a Delorean car.
Interestingly, the Delorean never really took off as a car after the company went bankrupt in 1982, but it has become synonymous with this film and in 2007 a limited number were produced again. [IMDb / Amazon]
1961 Ferrari 250 GT Spyder California in Ferris Bueller's Day Off (Dir. John Hughes, 1986): The late John Hughes directed several films that captured the growing pains of teenagers in Reagan's America, but this tale of a Chicago whizz-kid (Matthew Broderick) who plays truant with his girlfriend (Mia Sara) and best buddy Cameron (Alan Ruck) was arguably his funniest.
A key subplot was that they used a vintage Ferrari to drive around own in, a 1961 Ferrari 250 GT Spyder California which forms part of a key scene towards the end of the film. [IMDb / Amazon]
1976 Ford Gran Torino in Starsky and Hutch (Todd Phillips, 2004): A bit of a cheat this one, as the film version of the long running TV series about two LA detectives also featured the famous red Ford Gran Torino with the white stripe down the side. In truth this remake wasn't really up to much (Ben Stiller and Owen Wilson didn't really have the chemistry of Paul Michael Glaser and David Soul), although the car remains one of the most iconic of TV shows in this era.
Ford built 1,000 replicas of the "Starsky and Hutch" car in the spring of 1976, due to the TV show. [IMDb / Amazon]
The Tumbler in Batman Begins & The Dark Knight (Dir. Christopher Nolan, 2005 & 2008): Of the bat-mobiles that have graced the big screen, the one in the most recent films with Christian Bale as Bruce Wayne / Batman was the most radical. Invented by Wayne Industries' Lucius Fox (Morgan Freeman), it resembles an armoured vehicle and is powered by a massive jet-booster.
The vehicle does not have a front axle, a design which was influenced by the 'spinners' from Ridley Scott's Blade Runner. The film's production designer described the machine as a cross between "a Lamborghini and a Tank". The second film saw a nifty Bat-bike (the Batpod) hidden within the main body of the vehicle. [IMDb / Amazon]
The Films of Sam Raimi: For some reason director Sam Raimi has included has included a 1973 yellow Oldsmobile Delta 88 automobile (nicknamed "The Classic") in every film, even including his period Western The Quick and the Dead.
It has been in The Evil Dead films, the Spiderman trilogy and most recently appeared in Drag Me to Hell, driven by the elderly gypsy woman who can't get a mortgage.
If you have any classic film cars, leave a comment below.