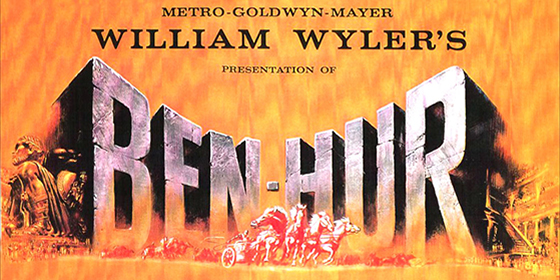 One of the most important Blu-ray releases of the year is this impeccable restoration of William Wyler's 1959 Roman epic.
Depicting the adventures of a Jewish prince (Charlton Heston), it charts his rich life in Judea, subsequent fall into slavery and rise as a champion charioteer in Rome.
Along the way we see his encounters with his mother (Martha Scott), sister Tirzah (Cathy O'Donnell), Roman rival (Stephen Boyd), former slave (Haya Harareet), a naval commander (Jack Hawkins) and even Jesus Christ.
A blockbuster release of its time, it was one of the most ambitious film projects ever attempted up to that point.
Adapted from Lew Wallace's best-selling novel, it had previously reached the screen in 1907 and 1926, but by the 1950s Hollywood were under threat from the rapidly growing medium of television.
MGM were in financial trouble and decided to mount a biblical epic along the lines of Cecil B DeMille's Samson and Delilah (1949) and The Ten Commandments (1956), which were both huge box office hits.
In addition to tapping in to this hunger for ancient religious stories, the major studios came up with various technical innovations to lure audiences away from their television sets.
Various larger film formats were introduced to create a bigger and more expansive image on the screen.
This culminated in epics such as The Robe (1953), the first film in the widescreen process known as CinemaScope, and The Ten Commandments, which utilised the greater resolution of Paramount's VistaVision format.
With Ben Hur MGM decided to shoot in a new process known as 'MGM Camera 65' (later known as Ultra Panavision 70), which meant that it has an unusual aspect ratio of 2.76:1, making it one of the widest films ever made.
This was appropriate because they also spent a huge amount on creating a vast epic at a cost of $15m – then a huge amount – and over 300 sets, including a spectacular Roman amphitheatre at Rome's Cinecitta Studios.
MGM's gamble to stave off bankruptcy succeeded, with Ben Hur becoming the highest grossing film of 1959 (making $90m worldwide) and winning 11 Oscars, a feat only equalled since by Titanic (1998) and The Return of the King (2004).
Its critical reputation suffered during the 1960s, as a new generation of directors and critics reacted against the expense and spectacle of the previous decade.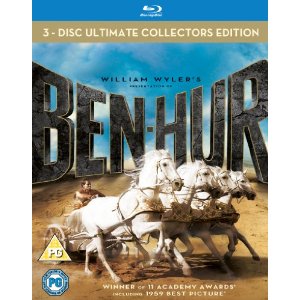 Director William Wyler was even quoted as saying:
"Cahiers du cinéma never forgave me for the picture."
Perhaps he was too versatile to be pegged as an auteur in the way that Orson Welles or Alfred Hitchcock were, or maybe after winning three Best Director Oscars he was too much of an 'establishment' figure for young guns like Truffaut and Godard to re-evaluate and champion.
However, although these large scale biblical epics were scorned by certain cinephiles of the day as an expression of the stifling conformity of the 1950s, they can also be seen as coded parables which echoed the concerns of writers during the era.
When Messala demands that Ben-Hur either stand with him or against him, he not only echoes the Manichean cry of McCarthyism but also the world view of more recent administrations (the following year Spartacus – scripted by blacklisted screenwriter Dalton Trumbo – would take this theme even further).
But what makes this restored version of Ben Hur fascinating to revisit is that Hollywood now is undergoing a similar kind of seismic change that it went through fifty years ago.
Instead of television wreaking havoc with the established order we now have the Internet and whereas once we had studios looking for salvation in biblical epics, now they turn to large scale fantasies from the church of Marvel or DC.
Even the 3D craze of the 1950s has updated itself in recent years with a newer, digital form.
However, this Blu-ray represents a pleasing collision of both worlds, as digital technology has been used to present the best ever home version of the film.
The Warner Bros restoration team have preserved the ethos of the original MGM production, which was to create a stunning spectacle on screen.
Whilst we can't go back in time to the fresh print 70mm presentations back in November 1959, this represents the next best thing.
[UPDATE: Actually the next best thing is to see the 8K digital cinema print that screens at the New York Film Festival this Saturday – can Warner Bros arrange for a UK screening?]
It is easily one of the best restorations I've seen in the Blu-ray format and is up there with Warner Bros' previous outstanding transfers of Dr. Zhivago (1965), North By Northwest (1959) and Gone With the Wind (1939).
Presented in its original aspect ratio of 2.76:1, the action frequently looks breathtaking due to the care and attention that was put into the original production (production design, costumes, location, visuals and sound) and the painstaking restoration process.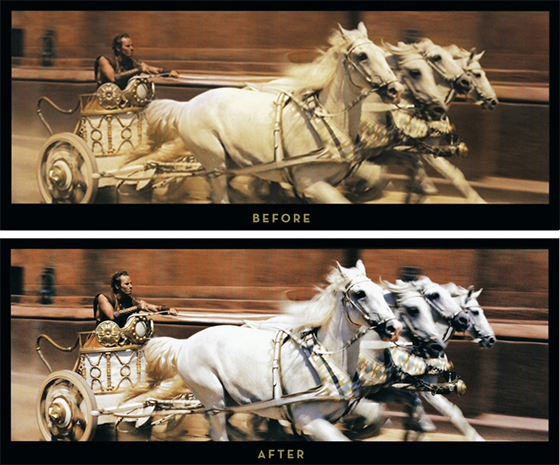 This was originally slated for a 50th anniversary release but Warner Bros took their time, due to the complexities involved.
Speaking to Hollywood Elsewhere back in June, Jeff Baker of Warner Home Video stressed why they didn't want to rush the release:
"At WB we are more than acutely aware of the age of Ben-Hur — i.e., 52 in 2011. It was our intention to release this film in Blu-ray in 2009, but the film restoration was complex, and the 8K scan was the optimal solution vs. 2K or 4K, therefore we took our time and did it right to deliver the best possible resolution for the consumer. Therefore we are celebrating the 50th anniversary in 2011, and considering that it is more than 50 years, we do not see this as being disingenuous, particularly due to the circumstances surrounding this restoration. After all, we are not advancing the clock and celebrating the 55th or 60th."
As noted in the same piece, this is one of the most precise and detailed restorations of a classic Hollywood movie:
"The Ben-Hur restoration, just to be clear, was completed from an 8k scan of the original 65mm camera negative, with a 6k finish making this the highest resolution restoration ever completed by Warner Bros."
Another bonus is that this three hour film has been spread over two discs, preserving the quality of the film by using up as much space on each one, with nearly all the extras appearing on the third.
The image quality is stunning and all the expense that was poured into making this one of the most epic films ever staged really pays off in its transfer to HD.
Of particular note are the compositions, as Wyler and cinematographer Robert L. Surtees created shots and sequences which really used the wide frame – interior locations (such as the prison sequence) and exterior vistas are brilliantly captured.
Intimate shots of actors faces also look tremendous, with some sequences making clever use of them in lower light conditions.
The sound is also outstanding: the DTS-HD Master Audio 5.1 track is immense, preserving Miklós Rózsa's famous score, whilst the chariot race sequence feels more intense than ever before.
A landmark film in Hollywood history, Ben Hur also establishes a new gold standard for Blu-ray restorations.
SPECIAL FEATURES
Most of the extras have been ported over from the 2005 2-disc DVD set but there are a couple of notable new features that have been added for the Blu-ray.
They break down like this:
Audio commentary by T. Gene Hatcher with Charlton Heston: This commentary from the film historian Hatcher is relatively informative, but Heston's comments are more valuable. However, they were recorded separately and are more sparse but do offer valuable background information about about the production and his time filming in Rome.
Music Only Track of Mikos Rózsa's score: This is probably for more specialist tastes but given that Rózsa's score is of considerable historical interest it is a valuable option to be able to listen to it separately, even if it is in Dolby Digital 2.0 and not a lossless audio.
Trailers (14:15)
Charlton Heston and Ben-Hur: A Personal Journey (1:18:06): This new HD featurette made especially for the Blu-ray mixes interviews with Heston's wife Lydia, son Fraser and daughter Holly Ann, along with various people who have worked with the late actor. Heston documented the production of Ben Hur with a detailed journal (from which his son reads extracts) and a wealth of 16mm footage filmed by Lydia which include a lot of material shot in and around Rome.
The 1925 silent version of Ben-Hur (2:23:06): The full version of the older, silent version of Ben Hur is included and it makes for an interesting comparison. A hugely ambitious production in its own right, it acted as a kind of template for Wyler's version, especially the set pieces involving the sea battle and the chariot race. This version is restored with a score by Carl Davis.
Ben-Hur: The Epic That Changed Cinema (57:46): This 2005 documentary that accompanied the 2-disc DVD release is a useful place to begin for newcomers and is a good introduction to the film's place in cinema history. Various directors (Ridley Scott, George Lucas), cinematographers (Janusz Kaminski, Ernest Dickerson), production designers, and historians discuss the movie and the elements that make it such an enduring classic.
Ben-Hur: The Making of an Epic (58:15): A 1994 made for television documentary goes for a more conventional behind-the-scenes exploration of the film. Narrated by Christopher Plummer, it looks as past adaptations but mainly stays with Wyler's version, offering a steady stream of on-set photographs, footage, and interviews with key players.
Ben-Hur: A Journey Through Pictures (5:09): A montage of production photos set to Rózsa's famous score.
Screen Tests (29:18): The real jaw-dropper here is to see Leslie Nielsen's screen test for the role of Messala (which eventually went to Stephen Boyd). Also keep an eye out for I, Claudius star George Baker as he auditions for the title role at MGM studios in Borehamwood whilst answering some questions from what appears to be a very posh English casting director.
Newsreels (9:45): Easily one of the standout extras, this assortment of newsreels documents the various premieres of the film and what a big deal it was as it premiered in New York, Los Angeles, Washington and Tokyo. My favourite bit is Heston signing autographs and serving coffee to New Yorkers in the queue for tickets at Loew's State Theatre.
Highlights from the 1960 Academy Awards Telecast (9:47): Although the audio is patchy, the ceremony that year was broadcast in black and white from the Pantages Theater in Los Angeles and marked a record 11 Oscars for the film. Perhaps the most notable moment is when producer Sam Zimbalist's widow Mary comes on to collect the Oscar for Best Picture after her husband had passed away during filming.