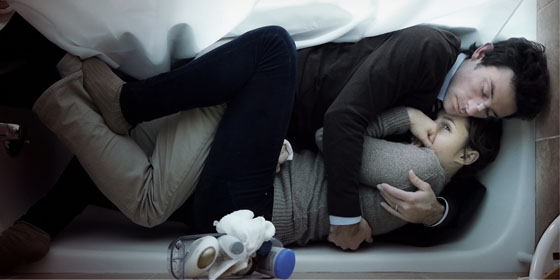 The long-awaited second film from Shane Carruth is a mind-bending puzzle filled with striking images and sounds.
Back in 2004 Carruth startled audiences at Sundance with his ultra low-budget time travel drama Primer, which has since become a significant cult film.
He quickly became something of an enigma – apparently one long cherished project was stuck in development hell – prompting questions about when and what his new film would be.
But earlier this year he was back at Sundance (nine years after his debut film) with Upstream Color, which prompted eager anticipation.
Suffice to say, Carruth has lived up to expectations with a film that is both absorbing and uncompromising.
When a young woman (Amy Seimetz) is involved in a bizarre series of events after being drugged, she forms a connection with a man (Carruth) who has had similarly surreal experiences.
Although that is a very basic outline of the story, part of the pleasure is seeing how it veers into surreal realms encompassing roundworms, pigs, flowers and Henry David Thoreau's Walden.
Just trying to describe the film in words feels futile as this is one that should be experienced on a audio-visual level.
The sound design by Pete Horner and Chad Chance is a huge part of the film and the seemingly omnipresent synth score is hypnotic.
The visuals too have a strange, sinister beauty as most of the time Carruth and his co-editor David Lowery cut in an interesting way, cramming a kaleidoscope of images into the 96 minute running time.
Such specificity of vision is probably due to Carruth's array of talents: he serves as actor-writer-director-producer, cinematographer, composer, co-editor and one of the camera operators.
In a time where too much information is poured out before a film's release, he has been refreshingly enigmatic in interviews promoting it.
What is it really about?
You could say the film is about recovery and reconnection, but it is intentionally ambiguous and presented with a sense of mystery at almost every turn.
The way images, both urban and rural, are blended with sound is hypnotic, putting us into an almost trance-like state.
Because the film is so unconventional in its approach, some might dismiss it as pretentious or incoherent.
It isn't a mainstream film by any means, but in an era of manufactured franchises it is heartening to see such singularity of vision in US cinema.
Like Memento (2000) and Mulholland Drive (2001) it keeps the audience in a state of suspense at what may happen in the next sequence, which is quite a feat in an era noted for its adherence to more rigid forms of storytelling.
If Primer explored time travel and engineering, Upstream Color delves deep into the mysteries of identity and human connection.
The best compliment I can pay it is that as the final credits rolled in the cinema, I immediately wanted to experience it all over again.