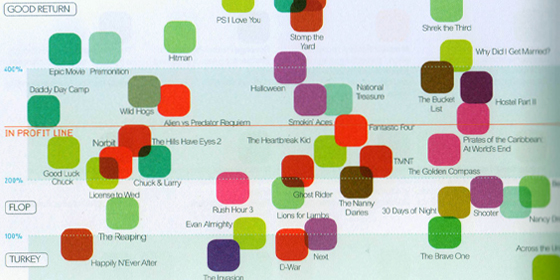 What were the most profitable movies of the last few years?
David McCandless and his team at Information is Beautiful have challenged people to visualise some Hollywood data.
They have compiled movie statistics consisting of:
Lead studio
Reviews
Story Type
Genre
Grosses
Budget
Profitability
McCandless puts special emphasis on profitability:
It always bugs me how Hollywood grades or broadcasts the success of a film by gross income. Profitability, or % of Budget Recovered, is a way better grade of a film's success. Especially in America, where each film has such high printing and advertising costs, that it needs to recover about 250-300% of its budget to be deemed a true hit. In fact, if you use Profitability as an index, it changes the view considerably. Take 2007, for example, where the biggest grossing film was Pirates Of The Caribbean: At Worlds End. But it only recovered 320% of its budget.
He gave a TED talk in June 2010 explaining his approach to visualising data:
With that in mind his challenge is for people to come up with a graphic or app that somehow makes sense of the data and there are significant cash prizes for the winners.
But lets take a look at the basic figures he has assembled so far.
For the full spreadsheet click here (there's a lot of data to chew on) but for convenience I've listed the ten most profitable films from 2007-2011 according to his criteria.
Just to clarify these figures are 'market profitablilty' scores based on the percentage of the budget recovered.
N.B. Films marked independent may have been distributed by a major company but were financed independently.
There's some brief points to consider:
Note the last gasp of the old indie era in 2007 before the financial crash of 2008.
The Dark Knight was both the highest grossing and most profitable film of 2008.
Paranormal Activity was insanely profitable and triggered a boom in low-budget horror.
 2010 is a very interesting mix of low budget and studio films.
What the hell is Never Back Down 2: The Beatdown?
2007
Juno (Independent) 3082%
Saw IV (Independent) 1394%
Waitress (Independent) 1109%
Superbad (Sony) 849%
The Simpsons Movie (Fox) 703%
300 (Warner Bros.) 702%
The Game Plan (Disney) 672%
Knocked Up (Universal) 664%
No Country for Old Men (Paramount) 644%
Harry Potter and the Order of the Phoenix (Warner Bros.) 627%
2008
The Dark Knight (Warner Bros.) 83%
Tyler Perry's The Family That Preys (Independent) 74%
Fireproof (Independent) 67%
Iron Man (Marvel) 53%
Step Brothers (Sony) 49%
Wanted (Universal) 49%
Marley and Me (Fox) 45%
Vantage Point (Sony) 43%
Indiana Jones and the Kingdom of the Crystal Skull (Paramount) 31%
High School Musical 3: Senior Year (Disney) 22%
2009
Paranormal Activity (Independent) 11, 420%
The Twilight Saga: New Moon (Summit) 14%
The Hangover (Warner Bros.) 13%
Avatar (Fox) 11%
The Blind Side (Independent) 10%
Ice Age: Dawn of the Dinosaurs (Fox) 9.8%
Taken (EuropaCorp) 9.1%
The Proposal (Disney) 7.9%
(500) Days of Summer (Fox) 7.8%
He's Just Not That Into You (Warner Bros.) 7.1%
2010
Paranormal Activity 2 (Independent) 5917%
The Last Exorcism (Independent) 3692%
Black Swan (Fox) 2531%
The King's Speech (Independent) 1635%
The Twilight Saga: Eclipse (Summit) 1020%
Easy A (Sony) 921%
Buried (Independent) 919%
The Karate Kid (Sony) 898%
Jackass 3-D (Paramount) 850%
Despicable Me (Universal) 785%
2011
Insidious (Independent) 6467%
Paranormal Activity 3 (Paramount) 4038%
Never Back Down 2: The Beatdown (Sony) 1388%
Bad Teacher (Sony) 1081%
Harry Potter and the Deathly Hallows Part 2 (Warner Bros) 1062%
Bridesmaids (Relativity Media) 887%
Midnight in Paris (Independent) 819%
The Help (DreamWorks) 797%
The Hangover Part II (Warner Bros.) 727%
Another Earth (Independent) 661%
I'm pretty sure The Inbetweeners Movie should be in this year but that may have had something to do with its US release.
> Information is Beautiful
> IndieWire on the profitable films of 2011
> CNBC's list of the most profitable movies ever