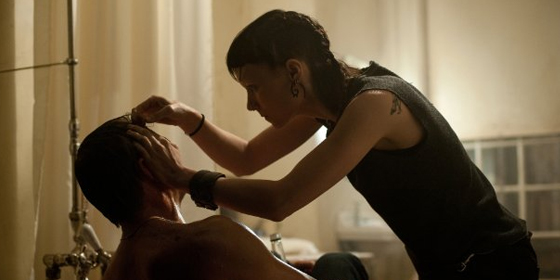 David Fincher brings his full digital armoury to Stieg Larsson's bestseller and the result is a masterful adaptation hampered only by the limitations of the source material.
When journalist Mikael Blomkvist (Daniel Craig) is hired by the patriarch of a rich Swedish family (Christopher Plummer) to investigate the disappearance of a family member in the 1960s, he eventually crosses paths with computer hacker Lisbeth Salander (Rooney Mara) as they gradually uncover a web of intrigue in a society with many dark secrets.
Major Hollywood studios have shied away from making adult dramas in recent years, so Sony giving a director free reign on dark tale of conspiracy, rape and murder represented something of a risk.
But the original novel triggered one of publishing phenomenons of last decade, which spawned a Swedish produced trilogy of films and now the inevitable Hollywood remake.
Inevitable is perhaps a misleading word, because although it was highly likely they would produce a version, one might have expected that they would tone down the darker elements of the book to appeal to a wider audience.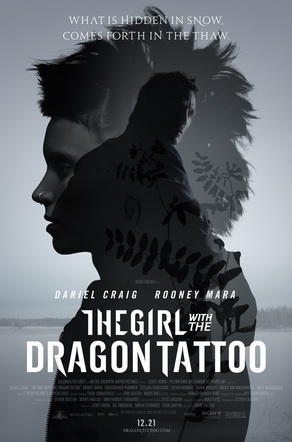 But given that the mix of graphic sexual violence and conspiracy plays such a large part in their appeal, Sony and MGM faced a quandary.
Do they dilute them down to a PG-13 and risk a fan backlash?
Or create that rare thing in the modern era, a wide release for adult audience?
They opted for the latter and recruited none other than director David Fincher, who had just made The Social Network for the studio and has a track record of police procedural thrillers.
It just so happens that the end result contains elements of Seven (a serial killer movie with gothic elements), Zodiac (a slow burn drama that looks into the mystery of the past) and the aforementioned The Social Network (the story of an outsider who uses technology to outwit people).
From the startling opening credits, it is clear that we are in Fincher-land: the impeccable compositions, polished design, razor-sharp visuals and haunted protagonists all feel a natural part of his filmmaking landscape.
Ever since Zodiac, Fincher has been on the forefront of digital cinematography and Jeff Cronenweth's visuals here are stunning, with the wintry terrain of Sweden providing a frequently beautiful counterpoint to the darker interior scenes.
The screenplay by Steven Zaillian does a highly effective job at compressing the sprawling strands of the novel into a coherent whole.
Those familiar with the book might know that Salander and Mikael are kept apart for a large part of the story and the resulting investigation involves a raft of supporting characters as the elusive history of the Vanger family slowly emerges.
Zaillian has largely stayed faithful to the book, but also added some welcome improvements – especially in the latter stages – whilst the editing by Angus Wall and Kirk Baxter is remarkably precise and efficient in keeping the story moving.
The wonderfully atmospheric score by Trent Reznor and Atticus Ross somehow manages to evoke the chilly physical and psychological terrains of the story, whilst also blending in with Ren Klyce's immersive sound design.
Before filming began much attention was focused on who would get the coveted role of Lisbeth Salander and Rooney Mara delivers a powerful performance in what is a challenging role, both mentally and physically.
Daniel Craig conveys a certain rugged charm as Blomkvist and when they finally get together their unlikely chemistry clicks into place nicely, bridging the gender and generational divide which have been a large part of the book's global appeal.
The illustrious supporting cast also do solid work: Plummer is wholly believable as the head of the Vanger clan; Stellan Skarsgard is sly and charming as his son; whilst actors like Steven Berkoff, Robin Wright, Joely Richardson and Geraldine James expertly fill out key smaller roles.
All of these elements are marshalled with military precision by Fincher, who has delivered a technically brilliant adaptation of the source material, which should satisfy the global fanbase.
There is a noble tradition of pulpy best sellers becoming classic movies (Psycho, The Godfather and Jaws) and this version of The Girl with the Dragon Tattoo represents an interesting example of transferring words to screen.
However, there remains a sense that this whole exercise is a bit like fitting a Ferrari engine into a Volvo: isn't the army of A-list talent assembled here vastly superior to Larsson's potboiler?
Although it deals with interesting issues which Hollywood rarely touches – violence towards women, the insidious nature of right-wing politics in supposedly liberal countries – it nevertheless follows the crime fiction template right down to the letter.
This is not to say that mainstream fiction cannot raise interesting issues as the book certainly tapped into the zeitgeist of corruption has pervaded the West in the last few years, whilst Larsson's untimely death in 2004 helped fuel the mystique even further.
Recent events involving journalism scandals (Hackgate), computer hackers (recent Wikileaks revelations) and even far-right murder in Scandinavia (Norway attacks) seem only to have enhanced the potent brew of crime, violence and institutionalised corruption that lies at the heart of the Millennium trilogy.
But the material upon which this film is based feels like a series of plot points squeezed into a tight-fitting story, with hardly any breathing space left after the multiple revelations and plot twists.
Readers have been presumably drawn precisely because of this mix of page-turning intrigue but I suspect what really took it to another level of popularity was the central combination of regular male hero and strikingly unusual female anti-hero.
But after the books and Swedish produced film trilogy, how much appetite is there for this?
I suspect that a major global release like this will make significant money, although whether enough to justify further films remains to be seen.
For a filmmaker like Fincher, who has crafted two ground-breaking police thrillers in Seven and Zodiac, the fundamental material inevitably feels something of a step down for him, like asking a renaissance master to draw in crayon.
It is to his credit that the end result is an invigorating entertainment and a curiously timely blockbuster for Christmas 2011, as we reflect on what a dark and corrupt place the world has become.
> Official site and Mouth Taped Shut
> Reviews at Metacritic
> More on Stieg Larsson and the original Millenium series
> Interesting article on the 4K production pipeline used on the film