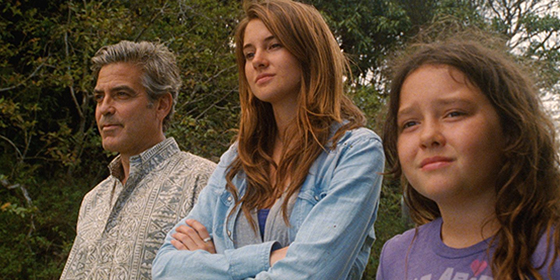 A comedy-drama set in Hawaii marks a triumphant return for director Alexander Payne after a seven year absence and provides George Clooney with arguably his best ever role.
Adapted from the novel by Kaui Hart Hemming, it explores the thorny emotional dilemmas facing landowner Matt King (George Clooney) after his wife is involved in a serious boating accident.
He also has to deal with his two young daughters (Shailene Woodley and Amara Miller) and the lucrative sale of ancestral land but when secrets emerge about the recent past he is forced to reexamine his life.
It seems odd that after all the critical and awards success of his last film, Alexander Payne should take seven years to make another, but the late 2000s indie collapse may have played a part.
I'm happy to report that The Descendants maintains his remarkable run of films that begun with Citizen Ruth (1996) and continued with Election (1999), About Schmidt (2002) and Sideways (2004).
Like those it masterfully blends sharp wit with heartfelt emotion, exploring the nuances of family relationships with an intelligence rarely seen in mainstream US cinema.
This has been a Payne trademark but the setting here provides a distinct visual flavour as well as an integral feature of the story, whilst the ensemble cast is outstanding.
Clooney in the lead role gives arguably his best ever performance, dialling down his natural charm to convey the confusion of a husband and father confronted with some harsh emotional truths about those he loves and – most importantly – himself.
Reminiscent of his best acting work in Out of Sight, Solaris, Michael Clayton and Up in the Air, he conveys a certain vulnerability whilst delivering the comic moments with consummate skill.
He is ably supported by what is one of the best supporting casts in recent memory.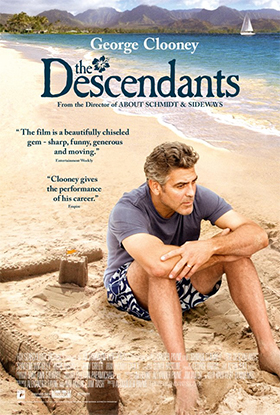 The young actresses who play his immediate family members are terrific.
Woodley is a convincingly tempestuous but wise teenager, Miller as her younger sister is believably innocent and Clooney's familial chemistry with them form the bedrock of the film.
There are also memorable turns from Robert Forster as a gruff father-in-law, Beau Bridges as a relaxed relative (seemingly channelling his brother Jeff as a Hawaiian Lebowski), Nick Krause as one of the daughter's boyfriend, Matthew Lillard as an opportunistic real estate agent and Judy Greer as his loving wife.
None of these finely tuned performances would be possible without the screenplay by Payne (with credited co-screenwriters Nat Faxon and Jim Rash) which laces the gravity of the central situation with some brilliantly executed humour.
The way the central dramatic scenario is blended with the characters and the wider themes of inheritance and time feel like a masterclass in screenwriting.
Payne's directorial execution is exemplary.
He has always demonstrated a keen eye for small, revealing details: the ballot papers in Election, the letters in About Schmidt or the TV clip of The Grapes of Wrath in Sideways.
Similarly, The Descendants is also filled with wonderful, human flourishes.
Payne sprinkles them throughout the film with relish and without giving away spoilers, particular highlights feature a swimming pool, a black eye, a sneaky kiss and a farewell speech.
Phedon Papamichael's cinematography is reminiscent of his work on Sideways, creating interesting interior compositions and contrasting them with some gorgeous widescreen exterior work.
Hawaii isn't always presented here as a picture postcard paradise – an opening monologue shrewdly debunks its glamour ("Paradise can go f**k itself") – but nonetheless it forms a beautifully telling backdrop to the narrative as the climax nears.
Payne has admitted that he spent months editing the film with Kevin Tent and it pays off as the comic and dramatic beats are timed to perfection, whilst the Hawaiian flavoured musical score gives the film a distinctive mood and texture.
It is also an interesting depiction of the Aloha state, drilling deeper into the heart of the place than TV shows which have used it as a backdrop (e.g. Hawaii Five-O or Magnum P.I.) and even more recent movies such as Punch-Drunk Love (2002), which was partly set there.
His early work often focused on his home state of Nebraska, but he has always managed to find universal truths within particular locations.
This is the case in his latest film as the family dilemmas are at once specific and yet embedded within the culture of America's newest state.
Mainstream cinema often can't resist cliché whatever the genre, so it is doubly satisfying to find a filmmaker who excels in combining light and shade whilst using intelligent humour to enhance the gravity of the central narrative.
Strangely, it also plays like a reverse Michael Clayton: both lead characters are lawyers with relationship issues, but have to deal with very different financial circumstances.
Payne has long been a fan of classic 1970s cinema and where Tony Gilroy's film channelled the spirit of Alan Pakula, this goes for a more bitter-sweet vibe reminiscent of Hal Ashby.
With strong reviews on the festival circuit and the marketing skills of Fox Searchlight behind it, The Descendants is likely to be a major player in the end of year awards season, but it is much more than just token Oscar bait.
In what happens to have been a year filled with remakes and sequels from the mainstream studios, this shows that Hollywood can still produce work which appeals to the brain as well as the heart.
The Descendants screens at the London Film Festival on Sunday (23rd) and Monday (24th) before opening in the US on November 18th and in the UK on January 27th
> Official site
> Festival reviews of The Descendants at MUBi