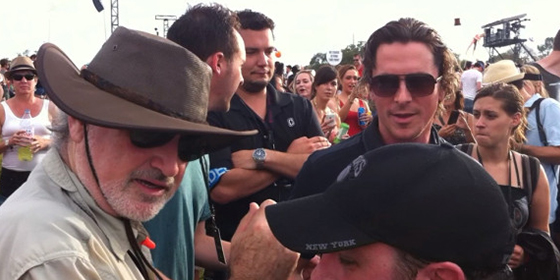 Video has surfaced online of Terrence Malick and Christian Bale shooting their latest film in Austin, Texas.
Malick was seen in his hometown at the Austin City Limits music festival over the weekend along with a film crew and Christian Bale.
The festival was streamed live on YouTube as acts like Iron and Wine, TV on the Radio and Coldplay performed.
However, Bale and Malick were also caught on camera in the crowd by Twitvid user Johnny Garcia:
The production crew were obviously aware that they would be shooting amongst a crowd and that photos and video were likely to be taken.
Perhaps that was the vibe Malick was going for, even though any film fans there may have been startled to see one of the legends of cinema and a leading A-list actor in the crowd of a music festival.
At one point Bale shoots a knowing glance to the (users) camera and then a woman called Sarah gives Malick a beer to give to Bale (both seemed very appreciative).
The Film Stage have also posted photos of the filming along with some Twitter reaction.
The big question is what film is this for?
His next project – which some think may be called The Burial – is scheduled for release next year and the IMDb list it simply as the Untitled Terrence Malick Project (2012).
It might be tempting to assume this is another movie altogether but I have a suspicion that it could be part of the film out next year.
Last September, Malick was spotted at another music festival (called Indian Summer) in Bartlesville, Oklahoma filming with actress Olga Kurylenko.
Rockville Music Magazine said at the time:
Festival goers took note of the Redbud Pictures LLC signs throughout the grounds alerting the public of filming. Redbud Pictures was incorporated in Oklahoma and Texas in the spring of 2010. A representative in the Texas Secretary of State's office confirmed Terrence Malick is the manager of Redbud Pictures. Actress Olga Kurylenko was filmed interlacing with the Indian Summer crowd and was also filmed twirling with a local girl, who's parents were taken aside to sign a release. Locals were content to watch Hollywood unfold before them and remained respectful of Malick's film crew while they moved freely, without security, throughout the Indian Summer crowd.
Note the similarities between the two different shoots – both involve crowds at a festival and the production company happens to have been based in Bartlesville and Austin.
Could it be that Bale was being filmed for The Burial?
> Untitled Terrence Malick project at the IMDb
> Possible first image for the new Malick film
> Rockville Music magazine on the September 2010 filming in Oklahoma