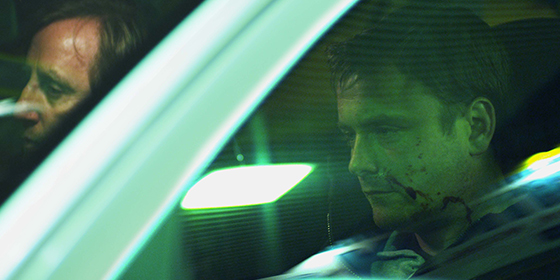 Despite some intriguing twists this horror film suffers from many of the problems that afflict homegrown British cinema.
The story explores what happens when two hit men, Jay (Neil Maskell) and Gal (Michael Smiley), are hired for a job which becomes ever more sinister and mysterious.
It is hard to discuss the plot without giving away major spoilers, but it also depicts the emotional fallout on Jay's wife, Shel (MyAnna Buring), Gal's enigmatic new girlfriend (Emma Fryer) and various other characters including a mysterious client (Struan Rodger) who they meet up with in a hotel.
To the credit of director Ben Wheatley, who co-wrote the screenplay with Amy Jump,  many of the twists are well handled and an ominous atmosphere is skilfully evoked as the hit men gradually uncover details of their new assignment.
Using the suburbs of Sheffield as a main location, though the precise setting is kept ambiguous, the blandness of Britain actually forms a grimly effective backdrop to the events that transpire.
For the most part the main characters are believable and have a natural chemistry with each other in their professional and personal lives.
But as the story progresses Kill List suffers from a kind of split personality disorder, as domestic drama mixes uneasily with more obvious genre elements.
Certain scenes smack of undercooked, improvised dialogue and some of the darker elements of the film (though often well executed) are no more than cheap pandering to slavish horror fan boys turned on by violence.
Similar problems affected Wheatley's debut film Down Terrace (2009), which involved a lot of people sitting indoors talking about things and pointless scenes where characters light up cigarettes for no real reason.
Whilst Kill List is a more interesting story, both suffer from looking like television: a chronic disease which afflicts many homegrown British films. Is it too much to ask for something cinematic when we actually go to the cinema?
But the biggest drawback of the film is the lead character as played by Neil Maskell, who is almost a parody of the cockney criminal stereotype that has littered British film since the late 1990s.
A brief glance at his acting C.V. suggests he's been increasingly trapped in Brit movie hell: Bonded by Blood (2010), Doghouse (2009), Rise of the Footsoldier (2007) and The Football Factory (2004) are just some of the dire films he's been in.
To be fair, this is a film that tries to escape that particular ghetto but when the protagonist is such a jarring cliché it deflates everything around it.
Given that this was shot on a relatively low budget, the technical aspects are solid: the HD camerawork by Laurie Rose, sound design by Martin Pavey and music by Jim Williams all contribute to a believable mood of dread and menace.
Watching this in a decent screening room with excellent visuals and sound was a reminder of how digital projection and distribution can benefit lower budget films like this.
Whether this can break out an be a decent-sized success at the UK box office is another question – there are elements which will put off some audiences but word of mouth at the twists and ending might create good buzz.
Produced by Warp X and Rook Films, with backing from Film4, the U.K. Film Council and Screen Yorkshire, it looks certain to make a decent profit given its relatively low cost.
Sales agent Protagonist Pictures is looking to repeat their trick of last year, when they sold a similar micro-budget film – Monsters (2010) – after making waves at SXSW in Austin, where Optimum nabbed UK distribution and IFC Midnight picked up U.S. rights.
There is also a similar pattern surrounding this film: it will screen at Fright Fest in London and lots of horror bloggers – and some mainstream outlets – will fan the flames of hype surrounding it.
Although ultimately just a watchable horror film, Kill List will no doubt have a decent life on home video (both disc and VOD) and horror aficionados will enjoy the parallels to a certain cult classic of the 1970s.
British micro-budget genre films such as this could be on the rise during the recession, as companies look to capitalise on lower cost, higher value filmmaking techniques and buzz out of festivals like SXSW which attract breakout genre titles.
Although such a trend is likely to produce some talented filmmakers, audiences should be wary of the hype.