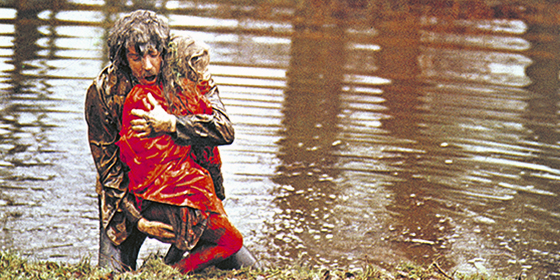 Nicolas Roeg's classic 1973 film gets re-released on Blu-ray with a wonderful transfer and some interesting new extras.
Based on the short story by Daphne du Maurier, it is about an architect, John (Donald Sutherland) and his wife Laura (Julie Christie), who relocate to Venice after a family tragedy.
There they meet two elderly sisters, one of whom (Hilary Mason) appears to be psychic and claims that their recently deceased daughter has been trying to warn them about something from beyond the grave.
A work of startling power and originality, it formed part of Roeg's brilliant run of films in the 1970s which began with Performance (1970), co-directed with Donald Cammell, Walkabout (1971), The Man Who Fell To Earth (1976) and Bad Timing (1980).
Like those pictures, its reputation has increased considerably over time and it rewards repeated viewings, which reveal remarkable depths to Roeg's technique and storytelling style.
The opening sequence is perhaps one of the greatest in post-war cinema, almost a film-within-a-film, and forms a stunning prologue to the action which later unfolds in Italy.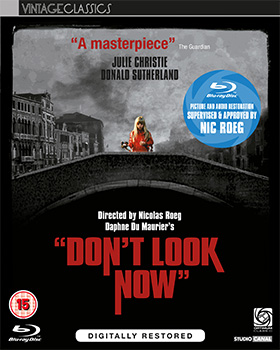 Wintry Venice is captured with remarkable authenticity – it was nearly all shot on location – and wisely the filmmakers opted to explore the less famous back alleys of the watery city.
This distinctive feel is boosted by the astonishing cinematography by Anthony Richmond and masterful editing by Graeme Clifford, which combine brilliantly to give the film its unique flavour.
Clifford has remarked that Roeg wanted this to be his "exercise in film grammar" and it is a visual feast for those prepared to look beyond the surface (as Sutherland's character says early on "nothing is what it seems").
Keep an eye out for the colour red, water, breaking glass and how they are sprinkled throughout with some highly inventive editing.
Perhaps most impressive is how Roeg uses these technical elements to accentuate the emotional core of the story, which centres on love, death, fate and grief.
Indeed, it is rare to find any film that mixes thought, feeling and style in the way Don't Look Now does.
This is aided by wonderful performances from Sutherland and Christie, who do some of the best work of their careers and make a very convincing married couple, which is a surprisingly rare thing on film.
The memorable score is by Pino Donaggio, who was a Venetian singer and songwriter previously best known for his song "Lo Che Non Vivo" (later covered by Dusty Springfield in 1966 as "You Don't Have to Say You Love Me").
It was his first experience working on a film and his rawness worked wonders, with his piano pieces, flute and strings providing a rich aural backdrop for what we see on screen.
An independent British and Italian co-production, the film was generally well received by critics on its initial release, although the US opening was hampered by an undeserved X-rating, due to the famous love scene.
Although comparatively tame by today's standards, the censorious attitudes of the US censors to sex (still a problem even today) almost certainly dented the film's commercial prospects in America, where cinemas and advertisers refuse to touch X-rated films.
For those interested in more back story to the US release, Peter Biskind's recent biography of Warren Beatty claimed US distributor Paramount may have pressured the ratings board into giving the film an X-rating.
Why would they do this? Reportedly it was done as a favour to a certain movie star and may even be what Sutherland refers to on the extras to this disc when he talks of 'famous' and 'nefarious' influences on the film's American release.
Despite this, its reputation has blossomed in the years since, so much so that it is now rightly considered a classic, coming eighth in a 1999 BFI poll and even topping Time Out's list of the best British films of the 20th century earlier this year.
The original materials must have been in good shape as this restoration (overseen by Roeg and Tony Richmond) looks stunning: although there are traces of natural film grain, the clarity of the images on screen is stunning and probably a testament to the care in how it was originally shot and put together.
EXTRA FEATURES
Some of the extras have been ported over from the 2006 DVD re-release but are well worth revisiting and the new material centres around a batch of interviews with various cast and crew.
* Note that some extras feature heavy spoilers, so if you are new to the film be sure to watch them after your first viewing *
Audio Commentary by Nic Roeg: The director is joined by film critic Adam Smith for a highly informative commentary. Perhaps because the film is so visually rich, they opt for a wide ranging discussion triggered by certain scenes rather than try to keep up with everything we see on screen. Roeg is a fascinating talker and the conversation varies between production stories, the themes of the story, the difficulty of shooting on location on Venice and details about key moments.
Introduction by Alan Jones (7:12): This video introduction provides a little bit of context although it might have been improved with some visual elements, as it is basically a man talking to a camera.
Looking Back (19:31): A substantial featurette with interviews from Roeg, DP Anthony Richmond and editor Graeme Clifford. They all discuss various aspects of the film including the recurring imagery (water, the colour red, breaking glass), the themes of fate and coincidence, the fragmentary approach to visuals and the difficulty of shooting in Venice. The eloquent insights into the film might even surprise seasoned viewers. (N.B. Roeg is interviewed in a church and you might want to keep an eye on the background)
Death in Venice: Interview with Pino Donaggio (17:36): An essential element of the film is Pino Donaggio's remarkable music. In this featurette the Italian composer describes his background and how Roeg hired him, despite the fact that he had never scored a film before. He was better know until then as a successful singer and songwriter and one startling fact is that Dusty Springfield's 1966 hit "You Don't Have to Say You Love Me" was actually a cover of his song "Io Che Non Vivo (Senza Te)". Roeg encouraged him to avoid certain conventions and combined with Donaggio's rawness, made for an unusual and unforgettable score. Donaggio describes his use of music for certain sequences, such as the opening, the love scene and the climax. He also talks about how his work here led to him working with Brian De Palma on several films.
Trailer (2:32): This seems to be the original UK trailer and is notable for the quick cutting style, which gives it a surprisingly contemporary feel.
Newer special features include these series of interviews, along with an archive featurette:
Danny Boyle (15:10): The director of Slumdog Millionaire and Trainspotting is a massive fan of Roeg and Don't Look Now, which he describes as "one of the masterpieces of the 20th century". He also talks about Roeg's unique directorial style and how, along with David Lynch, he is rare in exploring the 'enigma' of cinema. The fascinating and illuminating chat also covers how the director uses the persona of actors, a particular shot he copied for Trainspotting and a compressed version of the film (also included on the disc) that he made for a BAFTA tribute.
Allan Scott (14:31): The screenwriter discusses his amazing double life as a writer and businessman, his approach to screenwriting, the changes from the Daphne Du Maurier short story, the process of working with Nic Roeg (he did other projects with the director) and the film's legacy.
Tony Richmond (23:48): The DP describes how he got into the industry, his background in music documentaries, the symbolism in Don't Look Now, shooting the opening scene in Hertfordshire, the difficulties of shooting in Venice, using the newer Panavision cameras, natural light, shooting the love scene quickly and secretly and the uniqueness of Roeg's style.
Donald Sutherland (23:14): The actor talks about how he was cast, his early thoughts on the script (which Roeg quickly shot down), his fear of vertigo and drowning, doing his own stunts, the power of the story, working with Julie Christie and the technical innovations of the film. He also discusses how 'famous' and 'nefarious' influences may have had a part in US distributor Paramount cutting out 25 minutes, the enduring power of the famous sex scene (and the difficulties of filming it) and he also has a fantastic anecdote about an actor friend (who wasn't in the film). Sutherland also makes a fairly astounding admission about watching his own movies.
Also new are these two featurettes:
Compressed version of Don't Look Now made by Danny Boyle for BAFTA tribute (4:31): Although interesting I'm not sure how I feel about the inclusion of this. One can only assume that it was made with the best of intentions (it was for a BAFTA Roeg tribute night after all) but the music track is totally out of whack with the images and the scenes from the film lose a lot of power when stripped from their original context.
Excerpt Sex and Death from documentary "Nothing Is As It Seems" (15:37): This excerpt from a TV documentary (shot in what appears to be the late 1970s) on grief features Dr. Colin Murray Parkes, a psychiatrist and expert on bereavement, discussing the issue in relation to Don't Look Now. Skilfully intercut with clips from the film, it provides an interesting scientific counterpoint to the paranormal ideas presented in the film.
In what has been a great year for classic 1970s cinema on Blu-ray, with notable re-releases of Taxi Driver and Apocalypse Now, and now Don't Look Now.
An essential classic of 1970 cinema, it has never looked better and is an essential purchase both for new and seasoned viewers.
Don't Look Now is released on Monday 4th July by Optimum Home Releasing
> Buy Don't Look Now on Blu-ray from Amazon UK
> Find out more about Don't Look Now at the IMDb and Wikipedia
> Features on Nic Roeg at IndieWire and Senses of Cinema
> Observer feature on Don't Look Now from 2006
> Nicolas Roeg's Top 10 films at The Criterion Collection
> BAFTA Tributes to Nic Roeg in 2009 featuring Danny Boyle, Christopher Nolan, Kevin MacDonald, James Marsh, Guillermo Del Toro, Mike Figgis and Paul Greengrass
> BBC interview with Nic Roeg
> Listen to our interview with DP Anthony Richmond and his work with Nic Roeg on Don't Look Now and The Man Who Fell To Earth