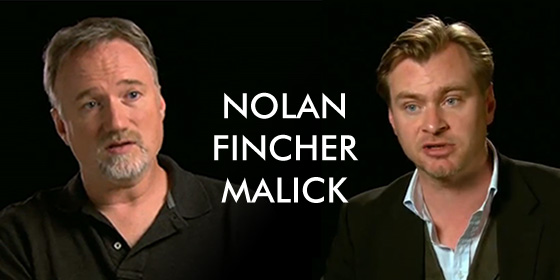 Fox Searchlight have released a video of directors Christopher Nolan and David Fincher talking about Terrence Malick.
Used as a way to promote The Tree of Life ahead of its wider US release on July 8th, it makes for interesting viewing.
Nolan has often cited Malick as one of his favourite directors, whilst Fincher has listed Days of Heaven (1978) amongst his all-time favourite films.
It is a smart way of marketing The Tree of Life to audiences concerned by the unusual nature of the film and perhaps says to geekier audiences that there is more to cinema than just comic book adaptations and Hollywood conventions.
The Tree of Life is in limited release in the US and opens wide on July 8th, the same day as the UK release.
> Watch the featurette in HD at Apple
> Official site
> Malick spotted in Cannes
> Reviews of The Tree of Life at Metacritic (currently has a score of 87)
> Find out more about Terrence Malick at Wikipedia and MUBi