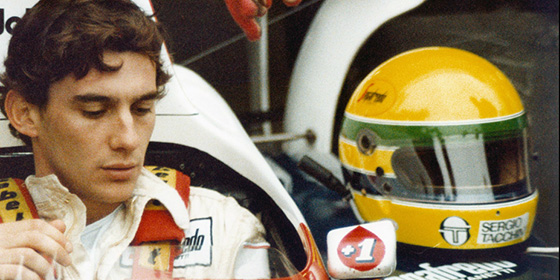 Asif Kapadia's documentary about the life and career of Ayrton Senna is a riveting portrait of the F1 driver.
Using only archive footage alongside voiceover contributions from those who knew and wrote about him, it constructs a compelling story of a sporting icon.
Beginning with his early career in Europe, it charts his rapid ascent to Formula One where he joined the McLaren team in the late 1980s and quickly established himself as a precocious rival to reigning world champion Alain Prost.
Exploring his extraordinary feats on the track and the joy his three world titles brought to his native Brazil, it then covers his tragic early death at the San Marino Grand Prix in 1994.
With judicious use of archive footage, which really comes alive on the big screen, it also covers the murkier politics off the track with former FIA boss Jean-Marie Balestre coming across as another rival to be beaten.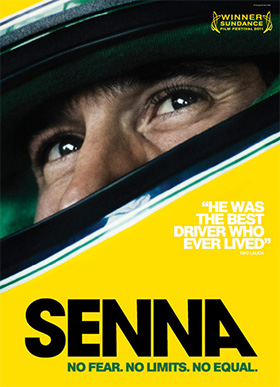 Although this will be devoured by motor racing fans, it also works as a fascinating introduction for those who know little or nothing about Senna and his impact on the sport.
Part of what makes it so exciting is his life story, which whilst not a rags-to-riches tale (he was from a wealthy Brazilian family), feels like the subject of an epic novel filled with memorable touches.
His iconic yellow helmet, loving and devoted parents, faith in God, millions he donated to charity, glamorous girlfriends and the driving skills which established him as one of the greatest racing drivers of all time are just some of the rich details which make up the story.
The film contains many of his greatest moments: his amazing F1 debut at Monaco in 1984; his victory at the 1988 Japanese Grand Prix to clinch his first world title and his electrifying win at the Brazilian Grand Prix in 1991.
Assembled from hours of footage from various broadcasters and the F1 archives, the editing is frequently inspired, providing an unusual level of excitement for a documentary.
At one point we see some especially prophetic comments from Prost ("Ayrton Senna has a small problem, he thinks he can't kill himself because he believes in God and I think that is very dangerous for other drivers") as well as footage from family home videos.
Some of the internal F1 videos of driver meetings are an eye-opening glimpse into the world of a dangerous sport and Senna's pleas for more safety add to the tragic irony of his untimely demise.
There are also astute voiceover contributions from journalist Richard Williams, F1 doctor Sid Watkins and racing commentators Galvão Bueno and John Bisignano which explain and illuminate his impact on the sport and his home country.
For director Asif Kapadia this marks a change from his previous feature films (such as The Warrior and Far North) but he seems to have a natural feel for the drama of real life and of the intense highs which sport can deliver to both participants and fans.
A subtle but atmospheric use of music augments the film nicely and the use of internal F1 footage of the drivers observing the horrific accidents during that fateful weekend in 1994 brings a new perspective to what would be a turning point the sport as a whole, as major safety changes were brought in following the crash that killed Senna and Roland Ratzenberger.
Although the exact cause of Senna's crash at Imola still remains a mystery, it seems an unlikely confluence of events was ultimately to blame: the new rules imposed on the Williams car that season, an engineering fault, a previous crash at the start of the race and bad luck in how the car actually crashed on impact.
On paper this might sound like a film just for devoted F1 fans, but perhaps its greatest achievement lies in how it not only makes the races truly thrilling but finds universality in the details of a sportsman's life.
After scoring major buzz at Sundance earlier this year, Universal and Working Title will be quietly confident that it finds a deserving audience hungry for engaging factual entertainment.
With the summer movie season fuelled by comic book fantasy, Senna provides a welcome injection of real-life drama and excitement.
> Official site
> Find out more about Ayrton Senna at Wikipedia
> Follow Asif Kapadia on Twitter
> Follow the film on Facebook and Twitter